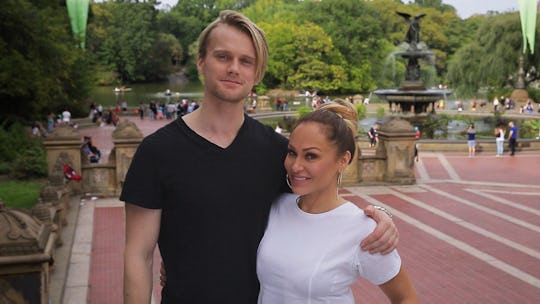 TLC
Darcey & Jesse Debate Over How They Really Met On '90 Day Fiance'
One of the longest sagas fan got to witness on 90 Day Fiancé: Before the 90 Days is that of Darcey and Jesse. Since they've been on the show since Season 1, fans may be wondering how did Darcey and Jesse meet before 90 Day Fiancé: Before the 90 Days? Their stories actually differ.
In a TLC clip from Season 1 of Before the 90 Days, Darcey said that they met on an international dating app. The two chatted for two months and fell for each other; Darcey said that Jesse apparently checked all the boxes — ambitious, intelligent, and handsome. This year, however, Jesse told a different story. During an appearance on the podcast Reality Life With Kate Casey, Jesse said that Darcey catfished him. Furthermore, he said it wasn't a dating app that they met on, but a networking app.
"I was on a networking app. I never used — even though people think that — I never actually used any dating apps," Jesse said. "I was on a networking app and there's [a feature you have to pay for] to look international, for if you want to date, if you want to network, whatever. And I just used it to get in contact with people that wanted personal training, so that was great."
While Jesse was on this apparent networking app, Darcey messaged him. Jesse continued, "And then suddenly I got a message from the U.S. that was her. And I was like 'Wow!' I didn't know people could find me here from the U.S."
Starcasm (who reported on the podcast appearance), however, did some research into Jesse's claim that it was a strictly networking app and that he doesn't use dating apps. Jesse said the app was Inner Circle, which says it is a "selective dating app" on its about page. Hmm. That sounds a lot like a dating app to me, Jesse.
So, that pretty much solves it as far as I'm concerned: Jesse and Darcey initially met on Inner Circle. They've been through so much since then, however, that their initial long-distance days seem like a distant memory. The two met in Amsterdam in Season 1 and while it didn't end with an engagement, the two remained together. In Season 2, Jesse went to Darcey's hometown in Connecticut (and hopping to New York City several times, too). All the while, the two were fighting about seemingly everything: how Darcey drinks, how Jesse would be as a father, their steak dinner — everything. In the finale of Before the 90 Days, Darcey and Jesse were back in New York City and back to bickering.
Jesse said that he went back to the states to break up with Darcey in person. Darcey was, understandably, upset. When Jesse told her to have some drinks — alluding to the fact that he believes Darcey has an alcohol problem — that was it for her. She sobbed and went to bed, while Jesse sulked in his own room. The next morning, Darcey told producers they had sex. Jesse not only denied it, but insisted that Darcey wanted to but he didn't. Oof.
While that was technically the finale of Before the 90 Days, there's still more Darcey and Jesse to come on the tell-all special. As they were also in Season 1, this will be their second time on the tell-all couch. Last time, Jesse told Darcey that he wants to marry her at some point, but the segment ended with the two (surprise) fighting. Now that they have officially broken up, it's probably going to be even more awkward. But who knows, the two may shock us all, get back together, and be back on Season 3. For now, though, we have the tell-all special — and all the drama throughout their relationship.