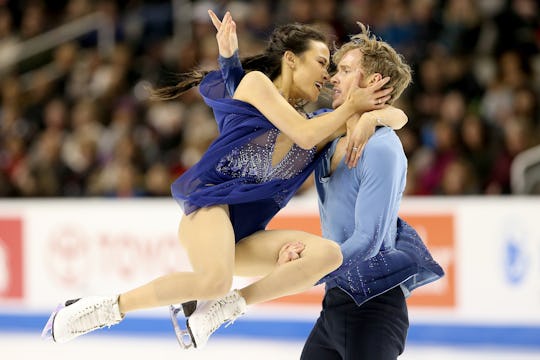 Matthew Stockman/Getty Images Sport/Getty Images
Here's How Olympic Ice Dancers Madison Chock & Evan Bates Met
Yes, for the record, ice dancing and ice skating are two totally separate sports. And both events have some seriously talented athletes competing at this year's Winter Olympics in PyeongChang, South Korea. One ice dancing pair to watch out for this year is Madison Chock and Evan Bates, although this isn't their first time competing together on Olympic ice. So, how did Madison Chock and Evan Bates meet off the rink? It sounds like skating is what ultimately brought the couple together.
Both Chock and Bates are from Michigan, according to The Midland Daily News. There are a few other ice dancers from the state competing in this year's Olympic Games, but Chock and Bates are receiving quite a lot of the attention because of their status as championship skaters in recent competitions and because they are a real-life couple.
Chock began skating at the age of 5, after she saw it on television, according to POPSUGAR. But she didn't begin ice dancing specifically until she was 12. Bates competed in his first show at 5 years old. It's unclear exactly how and when they first met, but Bates and Chock have being skating together since 2011, according to Us Weekly. They went on a date for Chock's 16th birthday, before they ever skated together, but it was years before they fell in love, according to NBC Olympics.
Chock was still skating — and became a 2009 World Junior Champion — with her previous partner, Greg Zuerlein, around the time she and Bates technically went on their first date, according to Inside Edition. Bates also had a different skating partner at the time, Emily Samuelson. He competed at the 2010 Winter Olympics with her, but in 2011, both of them sought out new partners — Bates parted ways with Samuelson after 11 years of competing together, and Chock's partner retired after they had worked together for 5 years, according to Brit & Co.
And the rest, as they say, is history. The athletes started training together that year, but it's been a strictly work-based relationship until recently. Bates told Inside Edition:
We were always having a blast and we were laughing all the time and just enjoying our time together. I think that friendship and that base was what sort of led to the romance.
Chock and Bates competed in the Sochi Olympics in 2014. It was her first Olympic Games, but his second, according to Brit & Co. They placed eighth in Sochi, but are hoping to snag a gold medal this time around. And with their skills and the fact that they clearly know each other very well both on and off the ice, Bates and Chock may have a shot at that top spot on the podium. When it comes to Bates, Chock told NBC Olympics in November:
It's almost like reading my favorite book, I can often see what he's thinking by a single look and other times he can still take me by surprise, especially with his creative ideas.
And it's that sort of ability to be totally in touch with one another that can really make or break a partnership at the Olympics, especially in something as carefully coordinated as ice dancing. Having known each other all that time before they ever became partners, and subsequently a couple, is probably a huge advantage for Chock and Bates in the rink.
Another fun fact about the couple? They each happen to own an adorable dog. Bates is the proud owner of Stella, and Chock owns Henry, both toy poodles, according to Us Weekly. But don't expect too many adorable ice-themed family photoshoots anytime soon — while Henry is super curious about the rink, Stella "doesn't do ice skating," Bates explained.
While it's unclear when Chock and Bates met, it's a safe bet that it was at some sort of ice dancing competition or other event, and the two are now inseparable whether they are on the ice or enjoying time as a couple off of it. With any luck, they'll go home from PyeongChang having earned an Olympic medal — together.
Check out Romper's new video series, Romper's Doula Diaries:
Watch full episodes of Romper's Doula Diaries on Facebook Watch.