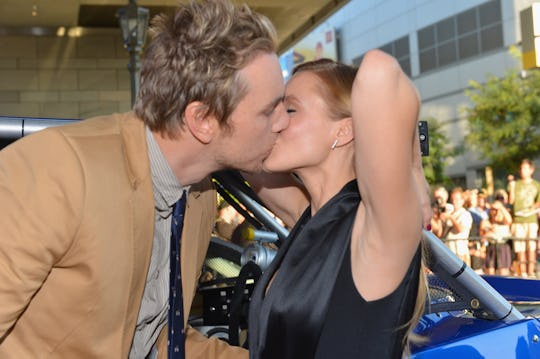 Alberto E. Rodriguez/Getty Images Entertainment/Getty Images
Here's How Kristen Bell & Dax Shepard Find Time For Their Relationship
Kristen Bell is one of my all-time favorite actresses. And not just because I find her funny in nearly every role, but because she seems to keep such a thin line between herself and the public, opening up to every question with candor. That holds true for an interview this week with InStyle, in which The Good Place star shared all the ways she and Dax Shepard find time for their relationship and work through tough moments together.
The biggest tip is one that seems so simple, but can be really difficult for parents who are mired down in the daily schedule. And Bell and Shepard know all about that schedule — they're parents to two little girls ages 5 and 3 — but they still work to communicate their needs. "Sometimes we'll look at each other and we're like, 'We need some intimacy and sex, like, right now.' We're just very honest about it," Bell told InStyle.
Even when a couple isn't particularly in the mood, that simple act of acknowledging each other's needs can begin to build desire, according to Psychology Today. "When you open up your partner about what's going on in your mind in regards to your sexuality, you allow him or her to know you on a deeper level. In certain senses, conversation can be foreplay," cynical psychologist Lisa Firestone explained in Psychology Today.
And while scheduling alone time doesn't sound like the most romantic thing, Bell has said before that it's something both she and Shepard take seriously. In 2016, for instance, she told Redbook, "We're pretty decent about staying on top of it. We'll be like, 'Okay, it's been how many days?' We find a night when nobody is coming over and we don't have to work super-early in the morning, and then we slot it in."
While Bell and Shepard make finding time for intimacy a priority, like any parent, they have had to face a funny moment or two as a result. They've both told stories about when their kids walked in while they were in bed together. In 2017, Shepard shared during in interview with Jimmy Kimmel:
We put on the TV in the living room — we're bad parents — and then we stole away for a minute, afternoon delight, but we were just under the sheets and they walked in. It was more just explaining why we're taking, like, a nap in the afternoon while they were loose.
LOL... oops! I don't know about them, but for me that might have created a really fast argument about who forgot to lock the door.
Resolving their disputes is also something that the couple takes seriously. In particular, letting their children see them apologize and reconcile. The idea originated with Shepard, according to HelloGiggles, who noted that kids often see their parents fight but almost never see them apologize, which is something that tends happen in private. Bell told the HelloGiggles
We always make an effort to make them see. So the next morning I'll say, "Hey, you know what Dad, I'm really sorry I was so frustrated yesterday when you were bringing in the groceries. I could have had a nicer tone in my voice." And he would say, "Thanks for saying that, Mom, I know you were stressed."
Additionally, according to SELF, Bell once told Harry Connick Jr. on his show that they fight a lot. So much that they wanted to learn how to fight better, more productively, so they chose to attend regular therapy sessions. "We actually disagree about 99 percent of the things on the planet, but we have an ultimate respect for each other," Bell said, according to SELF.
Their worst fight, as Bell revealed during an interview Jimmy Kimmel earlier this year, happened on a motorcycle when they were driving from New York to Detroit to visit family. It started with selections over music before morphing into a massive argument over helmet laws, since Shepard didn't want to wear his in states that don't require them. When they arrived at Bell's mother's house they weren't even speaking, nor would she hold onto him on the bike, and… well you have to hear her tell the story:
But as Bell nearly always says in her interviews about relationships, "It's about compromise," and these two have worked hard to learn to push past their individual desires to make their relationships work.
While nobody wants them to experience any kind of issues in their relationships, Bell and Shepard's stories about their are oftentimes fun, but mostly refreshing to hear.