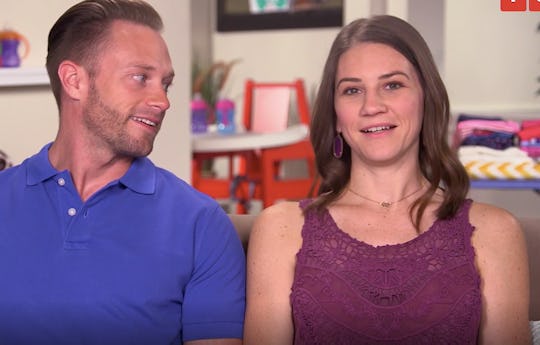 YouTube/TLC
'Outdaughtered's Adam & Danielle Busby Just Celebrated An Exciting Anniversary
Outdaughtered's Danielle and Adam Busby's story has been a bit of a whirlwind. For starters, the reality TV stars welcomed six adorable daughters in just seven years. But how did their own love story begin and exactly how long have Adam and Danielle Busby have married? As it turns out, their romance goes back further than you might've imagined.
Danielle and Adam Busby have been sharing their busy, hectic life at home with quintuplet daughters Ava Lane, Olivia Marie, Hazel Grace, Riley Paige, and Parker Kate — the only all-female quints in the United States, according to People — as well as big sister, 7-year-old Blayke Louise, since their TLC show premiered in 2016.
Looking back at the couple's history over the last few years, it's hard to believe that the Busbys actually just celebrated 12 years of wedded bliss this month, as Adam and Danielle each shared on their respective Instagram accounts this past weekend.
Adam captioned a photo of the couple on the beach, "12 years of marriage has been good to us. Best 12 years of my life and they keep getting better."
On Danielle's Instagram, she shared a sweet selfie of the pair with the caption: "12 years of marriage to this handsome man. Love you Buzz @adambuzz more and more as the years go by 💕."
The Houston-based family has won kudos from viewers who relate to their every-family appeal. With the spouses having clashed on-air over everything from money to time-management, it's especially nice to see them having survived the early years with their brood with so much love for each other.
Although reality shows can be exaggerated, the Busbys in particular are ultra-relatable in the struggles they've gone through, including trying to figure out how to pay for childcare when Danielle wanted to go back to work to medical issues including Adam's depression and anxiety as well as young Hazel's vision problems. And having met, and then later fell in love, while working at Target years ago, according to Style Blueprint, makes them all the more relatable.
Luckily, a lot of these hardships are in the past as the couple celebrates 12 years as a couple and another season of their beloved reality show. The couple — who recently vacationed in Negril, Jamaica — have said that keeping their bond intact remains a top priority. "I think the importance of having time with your spouse is the only way your kids will have a happy surrounding," Danielle recently told In Touch Weekly. "And a happy life is if your marriage is happy." Danielle added in the same interview In Touch Weekly:
Adam and I have an extremely hectic busy life, and it's never taken away from what our time is together. We have date nights every week and it's kind of changed over the years... We realized that for us too, we need to get outside the house for date nights.
With the quints getting bigger and older, things are getting a little easier for them at least in the sense that the kids can express themselves. "All day, every day, our house has six or so different conversations going on at one time — and you have to try and keep up with all of them!" Danielle shared with TLC.
And with clips from upcoming episodes showing that the family will deal with potty training, big-kid beds, the upshot of Hurricane Harvey, and preschool, it's safe to say the Busbys' story is far from over.