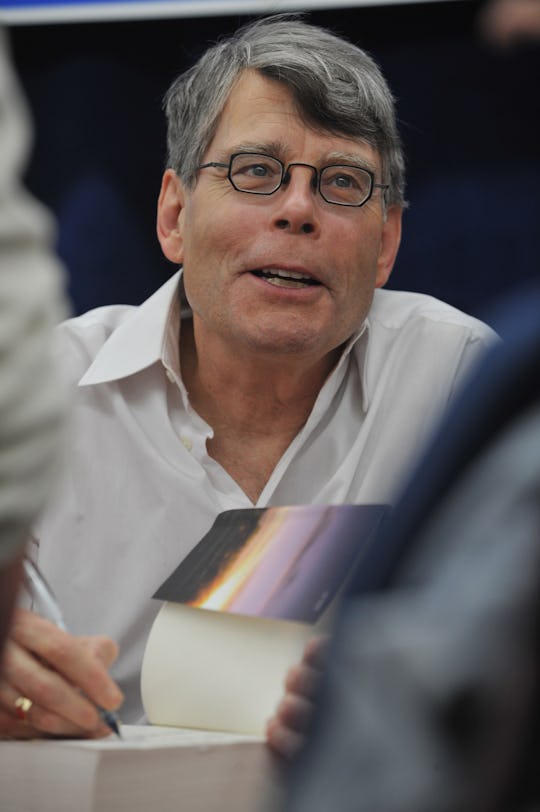 Larry French/Getty Images Entertainment/Getty Images
Stephen King's Massive Collection Of Work Inspired The Horror In "Castle Rock'
When it comes to mystery and horror stories, there is one author who has repeatedly delivered for over four decades — Stephen King. His stories and novels have gone on to inspire successful films including Carrie, The Shining, and It. Now, inspired by his collection of work, Hulu is releasing Castle Rock, a series that combines elements from a variety of King's novels. With scores of King references throughout the series, fans may wonder, exactly how many novels did Stephen King write?
King has been writing since the late '60s and has a whopping 58 novels under his belt, with one more, Elevation, slated for release in October. He has also written over 120 short stories and 20 novellas, including The Mist and Rita Hayworth and The Shawshank Redemption, which both ended up as massive on-screen successes. King has also penned five non-fiction books, like the 2005 release Faithful, which chronicled his hilarious emails with author Stewart O'Nan as they discussed the Red Sox' entire 2004 season.
Seven of King's novels, including The Long Walk and Blaze, have been published under his pen name, Richard Bachman. On his website, King mentioned that he began writing under a pseudonym because publishing companies were not keen on releasing more than one book from an author in a year. "The name Richard Bachman actually came from when they called me and said we're ready to go to press with this novel, what name shall we put on it," King wrote on his website. "I adopted Richard Bachman and that was that it made it possible for me to do two books in one year."
Hulu's new series follows the fictional town of Castle Rock, the setting of many of King's novels. However, the story of Castle Rock does not come from the author himself. The synopsis of the series explains that King only provided the universe and inspiration for the show — not the plot.
A psychological-horror series set in the Stephen King multiverse, Castle Rock is an original story that combines the mythological scale and intimate character storytelling of King's best-loved works, weaving an epic saga of darkness and light, played out on a few square miles of Maine woodland.
Inspired by King's work, creators Sam Shaw and Dustin Thomason first pitched the story idea to producer J.J. Abrams, who had already worked with King on 11/22/63 for Hulu.
In an interview with Entertainment Weekly, Abrams said that he was excited about the idea of creating a Stephen King dimension that could foster a whole new series of terrifying tales, but was nervous about getting the author's approval and blessing. "I was not sure what his reaction would be, and I thought that maybe Stephen would feel like this would be too unpredictable a thing, that it wasn't going to be a literal adaptation," said Abrams. "Instead, he, it seems, had the same enthusiastic reaction that I did, which is that it sounded delicious."
If you are familiar with King's stories, then you might be able to catch some of the references sprinkled throughout the series. Some subtle easter eggs reference Cujo, The Shining, and Stand By Me. Other references, like the use of Shawshank Prison, are more obvious. Additionally, some of the actors starring in the show will already be familiar to Stephen King horror. Sissy Spacek, for example, played the tortured teenager in Carrie, and now stars in the show as Ruth Deaver. Bill Skarsgård, who was Pennywise The Clown in the reboot of the classic It plays a creepy character known only as The Kid.
But even if you've never seen or read any of King's work, you should still be able to enjoy the series. "The conceit of a different dimension that connected Steve's work just immediately felt to me like the richest fertile ground for stories that are completely fresh for people who aren't avid fans," Abrams said in his interview with EW. "And yet for those who are, there would just be this entirely different level of resonance."
Castle Rock premieres with a three-episode drop on Wednesday, July 25 on Hulu.