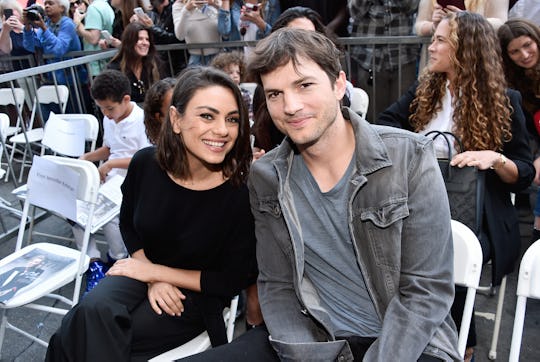 Alberto E. Rodriguez/Getty Images Entertainment/Getty Images
Mila Kunis Shares The Moment That Led To Her & Ashton Kutcher Falling In Love
It's safe to say that almost everyone knows that Mila Kunis and Ashton Kutcher more or less grew up together on the set of That '70s Show. And even though their characters, Jackie and Kelso, dated on-screen, the two actors were five years apart in age when they met, with Kunis only a young teenager. Years later, she went on to get serious with actor Macaulay Culkin and Kutcher dated actresses Brittany Murphy and January Jones before settling down with Demi Moore. But with the old friends getting married in 2015, the story of how Kunis and Kutcher actually did fall in love is as cute and down-to-earth as they are.
As E! News reported, Kunis recently went on Dax Shepherd's podcast, Armchair Expert, where she opened up about some previously-unknown details about how she knew Kutcher was "the one." And, according to E! News, Kunis' answers are just as fresh and forthright as you would expect.
It turns out that, after his divorce from Moore, Kutcher invited a single Kunis out to an event — because he was trying to set her up on a blind date with another guy. When that dude was a no-show, as the mom of two told Shepard, Kunis and Kutcher started catching up... and well, sparks flew.
"I see this guy and I see his back and he's really tall," Kunis recalled about the fated night on The Howard Stern Show in 2016, as reported by People. "Then he just turns around and it was literally like if we were in a movie, the music would start playing and the violins would go. I think for the first time ever he took my breath away – I was like f*ck, he's good-looking... Long story short, I didn't leave until the next morning. [It was the] first time I ever slept over while I was single."
After that, things moved fast for the duo; it's not like they had to get to know each other from scratch. The couple welcomed daughter Wyatt in 2014, and planned a super-secret wedding ceremony to make it official in 2015, as Glamour detailed. Son Dimitri arrived in 2016, as USA Today reported. Since then, the family has been forthright about trying to raise decent kids in a complicated world, including talking about the harmful effects of social media and why they don't want any kind of inheritance to spoil their kids' future chances.
But as Kunis added to Shepard in this most recent revelation, her current happiness with Kutcher didn't come without some much-needed personal growth. According to E! News, she told Shepard, "I was an a**hole in my 20s, and I'll be the first to admit it. That kind of is something that took me a long time to come out and be like 'Yeah, you know what? I was a d*ck, and I accept it and I own it now.'"
Having matured and learned through mistakes, Kunis added that her current happiness is because of life this experience. According to E! News, she told Shepard of her relationship with Kutcher:
We went into this relationship super transparent with one another. So we knew 100 percent each other's faults. We knew exactly who we were. We knew exactly who we used to be. Everything. And we were like I accept you for you are.
With the couple now living happily ever after, lots of people would say theirs is a Cinderella-type, old-fashioned love story. But the always-practical Kunis sees her own life as a more modern fairy tale, one in which the heroine had to have her own life first in order to be ready for her true match. "We would never be together based on the people that we used to be," she concluded in the People interview a couple years prior to the new discussion with Shepard.
With this latest interview, I'm so glad the world has gotten a better glimpse inside this fascinating couple's life together.