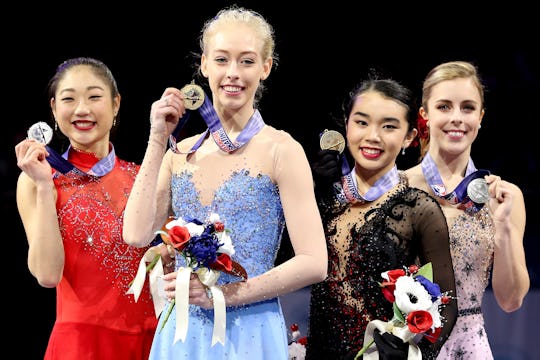 Matthew Stockman/Getty Images Sport/Getty Images
Ever Wonder How Old The U.S. Olympic Ice Skating Team Is, & Why You Aren't That Successful?
The 2018 Winter Olympics kick off later this week in PyeongChang, South Korea. Figure skating is a fan-favorite sport to watch every time the games roll around — and this year, the sport could gain even more attention than usual, considering the success of the recent film I, Tonya. (Hopefully less dramatic.) With the Winter Olympics right around the corner, there are a lot of questions fans may have about the figure skaters on the roster. Who are they? How long have they been training? Can a human really defy the laws of gravity? They're a pretty amazing bunch, especially when you think about how old the U.S. Olympic ice skating team members are and all that they've accomplished in such a short amount of time.
14 figure skaters are heading to PyeongChang to compete for the United States, including three women, three men, one pairs team, and three ice dance teams, according to Time. The figure skaters competing for Team USA this year are of a variety of ages, ranging from 17 to 30, according to stats on the official Olympics website. Here are the details on those figure skating for Team USA at this year's Winter Olympics.
Men Single Skating
Nathan Chen, 18
Fans of the sport have their eyes on frontrunner Nathan Chen, who is the reigning U.S., Four Continents, and Grand Prix Final champion, as explained on Team USA's website. He is also the first skater to land five quadruple jumps in one program, and the only skater in the world to land five different quadruple jumps in international competition.
Adam Rippon, 28
Adam Rippon is the first openly gay man to compete for the United States in the Winter Olympics, according to NPR. He was chosen for the team despite only placing fourth in the U.S. figure skating championships last month. "I'm really grateful that the selection committee looked at my body of work over the last two seasons," Rippon said, as noted by NPR.
Vincent Zhou, 17
At just 17, Vincent Zhou is the youngest athlete competing for all of Team USA this year, according to WAVY. As the outlet notes, he started gaining notoriety at the 2017 U.S. Nationals, where he performed three quadruple jumps, earning himself the silver medal. He also has a very positive attitude about the games. "I don't like to focus on what other people do. I'm just gonna try my best to skate the way I train. Who knows? There might be a miracle," he said, according to the outlet.
Women Single Skating
Karen Chen, 18
Karen Chen is the youngest woman competing for the figure skating team this year, and her journey here has not been without roadblocks, according to WAVY. She has had issues with the fit of her boots, knee pain, a bruised leg after accidentally colliding with a fellow skater, and a serious back condition. Despite all that, she managed to be crowned U.S. national champion in 2017. Plus, Olympic gold medalist Kristi Yamaguchi is a mentor of Chen's, so she definitely has a great support system going into this year's games.
Mirai Nagasu, 24
Mirai Nagasu is definitely one to watch in this year's competition. The 24-year-old also competed in the 2010 Winter Olympics, where she placed fourth, according to Team USA's website. Following in Tonya Harding's footsteps, she is the second American woman to execute a triple Axel in an international competition.
Bradie Tennell, 20
Bradie Tennell won the gold medal at the U.S. figure skating championships last month, securing her spot on the Olympic team, reports the Washington Post. She was also the 2017 Skate America Bronze Medalist and the 2015 U.S. Junior Champion, as noted by Figure Skaters Online. Tennell is known for her extraordinary jumping ability, adds the Washington Post.
Pairs
Alexa Scimeca Knierim, 26 and Chris Knierim, 30
The Knierims are a married couple, and the only pair representing Team USA this year. They are the first married couple to compete for the U.S. in the Olympics in 20 years (Jenni Meno and Todd Sand were most recent), as noted by NBC Olympics. Scimeca Knierim and Knierim were awarded the national title in both 2015 and 2018, and they are the first U.S. pair to land an ultra-tricky move called the quad twist.
Ice Dance
Madison Chock, 25 and Evan Bates, 28
Madison Chock and Evan Bates are the 2015 U.S. champions, 2016 U.S. silver medalists, and two-time world championship medalists, as noted on Team USA's website. The pair is actually a pair off the ice, as well — they went on their first date on her 16th birthday, as they were friends from the skating community. However, they didn't actually get together and fall in love until late 2016, once they were already longtime skating partners, explains NBC Olympics.
Madison Hubbell, 26 and Zachary Donohue, 27
Madison Hubbell and Zachary Donohue came in fourth at the 2014 nationals, meaning they just missed their chance to compete at the Olympics that year. This year, they finally qualified for the team — which is unsurprising, considering they have placed at all of their U.S. championships, they were awarded the 2014 Four Continents title, and they won a grand prix gold medal, as noted on Team USA's website.
Maia Shibutani, 23 and Alex Shibutani, 26
Don't let the last names fool you — the Shibutanis aren't married... they're siblings! Known as the Shib Sibs, Maia Shibutani and Alex Shibutani jumped onto the scene as partners at the 2011 world championships, subsequently winning medals at the U.S. championships eight years in a row. They also completed at the 2014 Olympics in Sochi, where they came in ninth, as explained on Team USA's website.