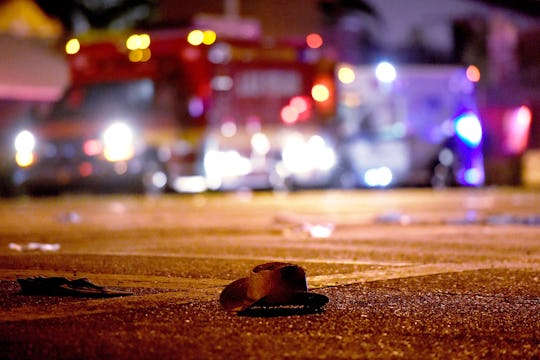 David Becker/Getty Images News/Getty Images
How To Find Your Loved Ones In Las Vegas
When a gunman opened fire on concert goers outside Las Vegas' Mandalay Hotel Casino and Resort Sunday night, at least 50 people were killed, hundreds were sent to local hospitals, and those uninjured fled, meaning that on Monday, many were still unaccounted for. Fortunately, there are ways to find your loved ones in Las Vegas, thanks to authorities and social media.
The shooting was first reported at 10:08 p.m. local time Sunday night at the Route 91 Harvest Festival, a three-day country music festival held outdoors on the famous Las Vegas Strip. Singer Jason Aldean had just begun to perform when a gunman with an automatic weapon began shooting from the 32nd floor of the resort. Eye witnesses described continuous gunfire, according to CNN, with those shot dropping and everyone else hiding under bleachers or attempting to flee. In a statement released Monday morning, the Las Vegas Metropolitan Police Department stated that over 400 people were taken to area hospitals. Aldean and his band, who left the stage mid-song, were unharmed.
With attendees injured or fleeing, it was not immediately clear who was injured or killed, nor the whereabouts of those who were lucky enough to be safe but obviously no longer at the concert. Some of course used Twitter to communicate to others that they were safe, but the police department and Facebook have established two formal methods of sharing information about people's wellbeing and location.
The police department set up a phone line that anyone can call to receive any available information about their loved ones. That number is 1-866-535-5654. In a statement Monday, the department also advised, "The identification process of all of the injured and the deceased will take time, so authorities are asking the public for patience."
Survivors also have the option of communicating their whereabouts to loved ones via Safety Check, a tool Facebook activates in times of crisis and has for Las Vegas as well. According to Bustle, the Safety Check works by first notifying everyone in the geographical area of the tragedy via Facebook or text message, giving them the option to mark themselves as safe. It then reports to a user's friends that they are safe. And as seen in this tweet below, it is something that many are appreciating right now.
As it has following past tragedies, Facebook also put up a crisis response page where locals can post queries about people they can't find and also offer to help. On the Las Vegas page, locals are already volunteering 'transportation, shelter, supplies, blood, and kind words,' because in times like these, emotional support matter, too. (The Crisis Response page on Facebook also features an option that allows you to see what friends are currently in the affected area, even if you weren't aware that they would be in the location at the time of the attack.)
At the time, people who were injured or killed are not being immediately identified by the police and other authorities as a measure of privacy. The Federal Bureau of Investigations has also set up a hotline for people to call with details or information and video if they have it. That number is: 1-800-225-5324, or 1-800-CALLFBI. While the suspect of the shooting was allegedly found dead when authorities breached the hotel room, the case is still being considered an active investigation, which means any detail can be helpful at this time.