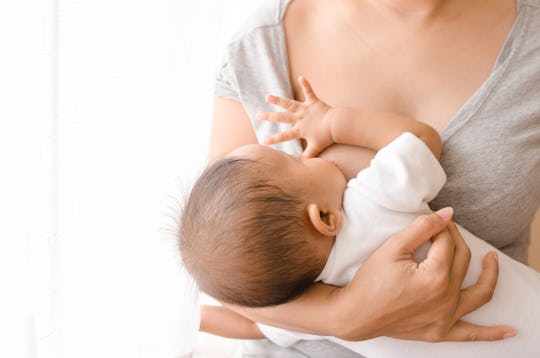 HillLander/Fotolia
11 Real Breastfeeding Questions On Thrush, Pumping, & More, Answered By Experts
Breastfeeding can be a hard, isolating, and emotional journey, which is why it's so important to have support. That's why Romper launched a Facebook breastfeeding community, Breastfeeding TBH — to help make feeding another human being with your own body a little easier. Every day readers ask questions because, let's face it, breastfeeding is complicated, and each week in Rack Facts, Romper speaks with a lactation consultant to answer as many of those questions as possible. After all, everyone can use a little expert help, especially when it comes to feeding your kid.
On this edition of Rack Facts, the theme is definitely stress. When work and school are getting you down, how do you keep up your supply and manage complex pumping schedules? How do you store milk when you only have access to a tiny fridge? And when disaster strikes — a nasty infection that lands you in the hospital, for instance — can you pick up breastfeeding where you left off?
In a perfect world, all moms would spend their breastfeeding days lounging in a hammock beneath the Hawaiian sun. In real life, we're often juggling a million responsibilities all at once. That's where Leigh Anne O'Connor, International Board Certified Lactation Consultant (IBCLC), and media liaison of La Leche League New York, comes in with a few helpful tips for moms dealing with thrush, stress, and more. Helen Anderson, Chief Lactation Officer at Fairhaven Health and founder of Milkies, addresses weaning, milk storage, and breast pumps. Finally, Melanie Silverman, Chief Clinical Officer for Pacify, a mobile app that gives new moms video access to lactation consultants, dietitians, and nurses 24/7, discusses your ideal breastfeeding schedule, and looking out for your supply when stress rears its ugly head. Happy feedings.