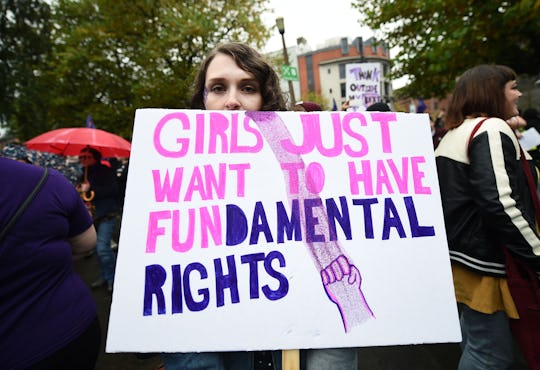 Charles McQuillan/Getty Images News/Getty Images
Here's How You Can Help Women In Mississippi Affected By The Nation's Strictest Abortion Law
On Monday, lawmakers continued their assault on women's rights, with Mississippi passing the nation's strictest abortion law yet. Effective immediately, as CNN reported, the new law bans most procedures after 15 weeks. So if you're outraged, scared, and ready for action, here's how to help women in Mississippi who may be affected by the state's new restrictions.
As expected, Mississippi Gov. Phil Bryant signed House Bill 1510, according to CBS News, which states that women cannot obtain abortions after 15 gestational weeks except in rare occasions where the woman's life or health is majorly threatened by the pregnancy, or the fetus has an abnormality that makes it "incompatible with life" outside the womb. It does not make exceptions for pregnancies in the case of rape or incest, according to CNN. Other states have restrictive laws, yes, but this is a new level of limitation. Still, it's not entirely surprising that this is happening in Mississippi, which only has one abortion clinic left in the entire state, as The Cut reported.
That clinic, by the way, is planning to mount a legal challenge to the new law, and it has a solid argument. Roe v. Wade, the landmark case that made abortion legal in the United States, said that states were only allowed to restrict abortion after the fetus had a chance of viability outside the womb. According to Think Progress, even at 22 weeks, babies can very rarely survive outside the womb, so it seems clear that 16 weeks is not even close to meeting the viability cut-off.
So, if you want to help fight this new law, or help protect women who may be affected starting now, here are some ways to do it.
Offer Help To Mississippi's Only Abortion Clinic
Jackson Women's Health Organization is the only remaining abortion clinic in the state, and especially as the people running it dive into a legal battle over this new law, it seems clear that they'll be happy to welcome all the help they can get. Now is a great time to learn about the clinic on its website. You can donate, or reach out to ask if there are other ways that you lend a hand.
Get Involved With The National Network Of Abortion Funds
This organization connects women who need abortions but cannot afford them with the funds to get the procedure. This kind of help can be especially useful in places like Mississippi, where women might have to travel elsewhere, potentially across state lines, to obtain the procedure they need. The funds gathered here can be used to cover travel, child care, and lodging to ensure that women have the necessary access.
You can donate on the National Network of Abortion Funds website, and even sign up to lead fundraisers of your own. And if you really want to put the "fun" in fundraising, you can help support women's abortion needs with a Bowl-A-Thon.
Support Planned Parenthood
There's a reason that abortion opponents spend so much time targeting Planned Parenthood — the organization is really, really good at helping women. Planned Parenthood is always on the front lines when it comes to protecting freedom of choice, so now is a great time to donate or volunteer.
In The 2018 Elections, Support Candidates Who Support Women
Mississippi has a big election coming up this fall, and both Senate seats have the potential to be flipped. And sure, the national Senate is very different from the state legislature that just passed this restrictive abortion bill, but Mississippi could really use more pro-women representatives at every level. The state currently has the highest infant mortality rate in the country, according to Newsweek. It's time for some new faces who are devoted to helping women and not regulating their bodies. Keep your eyes peeled on the candidates, because any liberal contenders will need all the phone banking and donations they can get to compete in this very red state.
Raise Your Voice To Stop The Stigma
Even if the new Mississippi ban gets knocked down in court, it will have accomplished one of its purposes — increasing the stigma around abortion. Oftentimes women who want and need the procedure do not get it because of the shame surrounding it, and this bill continues to send a harmful message about something that's a deeply personal medical decision that might be necessary for a woman's well-being or a choice they've made for themselves and their families.
That's why many women online have started speaking up and sharing their abortion stories, particularly using the viral campaign #ShoutYourAbortion. It's so important for women who are considering making this decision to see others who do not regret it having done it, so that they can have all the information. Consider sharing your own story, or amplifying the voices of other women who have.
This new bill is extremely scary, and does not bode well for the future of reproductive rights. That's why it's so important to stand up and fight, and to help the women who will be most affected, starting now.