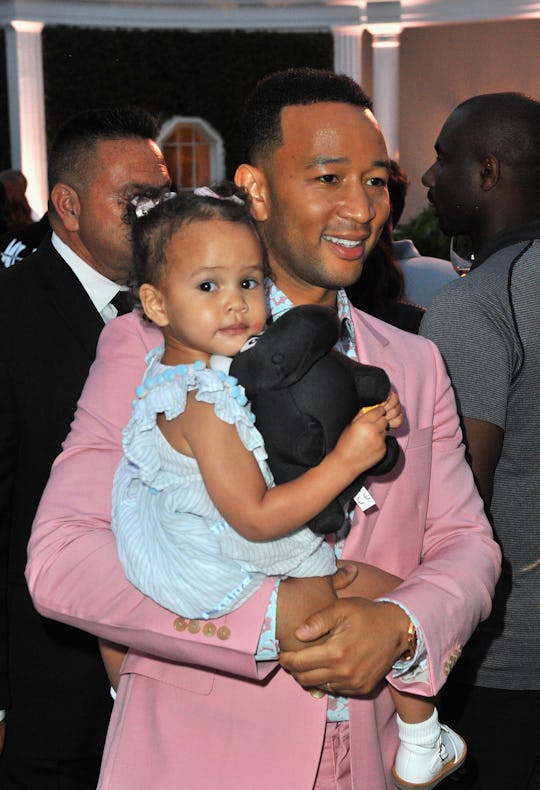 Jerod Harris/Getty Images Entertainment/Getty Images
John Legend Performed A Moving Song At The Families Belong Together Rally — Here's How To Listen
Chrissy Teigen and John Legend came out strong in support of immigrant families over the weekend in Los Angeles. While Teigen, with baby Miles in her arms, spoke to the crowd, Legend opted to use music and performed a new song. So how can you listen to John Legend's "Preach" from the Families Belong Together rally over and over again? It's the perfect song for the moment.
Legend's performed the song just twice before, according to Entertainment Tonight. Once at a private event in Los Angeles just a week ago and then on Saturday at the rally. He wasn't just showing off new music — Legend said that he wrote the song in response to the Trump administration's immigration policies that have separated thousands of families, as Entertainment Tonight reported.
"You can't just talk about it or tweet about it. You've got to do something. We wrote this song that feels right for this moment…," Legend said on Saturday, according to Entertainment Tonight. "I know a lot of us have a strong temptation to just disengage, but we can't. We can't do that. I can't do that. I have to do something."
Unfortunately, the song isn't on any of his albums yet, and it hasn't been released as a single either, although that could change over time. So right now, you just have to listen to the tune on YouTube videos of the original performance. The quality's not the best, but it's all fans can get at the moment.
Legend and Teigen have been active and vocal opponents of the Trump administration from the very beginning. Like many Americans, they were particularly outraged at the treatment of immigrant parents and children on the U.S. and Mexican border. Teigen took the stage with her newborn son in her arms, while little Luna watched with her grandmother from the side. Teigen was fired up, according to People, saying:
Can you imagine this city without the contributions of immigrants? How bland, how flavorless LA would be, how boring. Too many people demonize immigrants like they're stealing something from the people born here. Immigrants don't come here to take from us, they add to what makes America special.
According to People, Teigen added:
I cannot even comprehend the kind of cruelty in the hearts of the people who have enacted this policy, but I do know they did not expect us to come together in such an incredible way and incredible numbers to resist this. We are here and we are not going away. We are here because we believe America can and should do better. And John and I are going to keep showing up and speaking out, and making sure your voices are heard.
You can tell that the administration is affecting the family in some pretty major ways, as it is affecting so many others. Earlier in the week, TMZ stopped Legend while heading to his car after a night out with Teigen. When asked what he thought about a manager at a restaurant turning Press Secretary Sarah Huckabee Sanders away, Legend was not having any of it.
He told the reporter that that was the wrong question. The singer said, according to TMZ, "Ask me, Should we be reuniting 2,000 kids with their families? Ask me that." Legend added:
I don't care about f*cking Sarah Sanders. Reunite the f*cking kids with their families, and then we'll talk about Sarah Sanders and her f*cking dinners.
Earlier this month, Legend and Teigen also donated $72,000 to the American Civil Liberties Union, too. Obviously, the power couple is not planning on letting up the resistance anytime soon. Between cash donations, using their huge platform to raise awareness, and even writing new music, Teigen and Legend are literally doing everything they can to stand up for what they believe in.