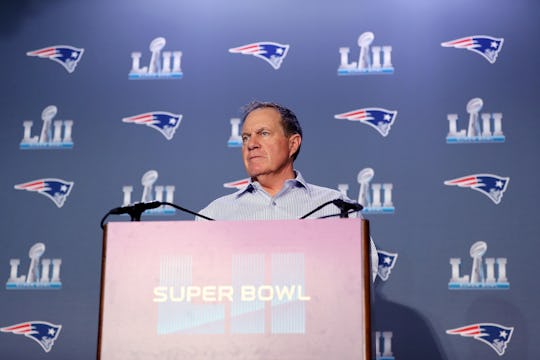 Elsa/Getty Images Sport/Getty Images
How To Stream The 2018 Super Bowl So You Don't Miss A Minute
This Sunday on February 4, you may find yourself devoting hour upon hour to Super Bowl LII celebrations. There are pre-game programs to watch even before the game itself kicks off, and if you're a sports fan (or you're just really excited about that half-time show) then you aren't going to want to miss a minute. But if you don't have access to cable TV, you might be wondering how to stream the Super Bowl. Luckily there are options if streaming is the way you want to watch.
The game airs on NBC starting at 6:00 p.m. and continuing, barring any unforeseen scheduling complications, until 10:00 p.m. There are preliminary specials to prepare you and after shows to remind you of the most important moments, but the game itself is the most important and it's the thing you want to be sure you tune in for. Not only will the New England Patriots be going up against the Philadelphia Eagles, but there's plenty of other entertainment to be found. You'll want to catch the ever-popular Super Bowl commercials as they make their debut, plus Pink singing the national anthem and Justin Timberlake taking on a mid-game performance.
Without further ado, here are some steaming options for watching Super Bowl LII:
NBC Sports App
The NBC Sports app can be accessed through many different devices, and you can watch all kinds of live sporting events through it. You can check in on the Super Bowl throughout the day on your phone, or open the app using Apple TV, Chromecast, Amazon Fire, or other alternatives. (NBCsports.com works to stream, too!)
NFL App
The NFL app provides live streaming for everything leading up to the Super Bowl and the game itself, so you're just a download away from getting to see it all.
FuboTV
You can also try a website called fuboTV. Though it does charge, there is a seven day free trial for new users. After that, it gets kind of pricey, charging $19.99 for your first month and $44.99 for every month thereafter. But if you sign up right before the Super Bowl, then you can live stream totally for free. And who knows — you might end up liking the service so much you stick with it.
NFL Game Pass
Game Pass is another service that allows you to catch up on sports, but unfortunately you won't be able to stream live. Instead, you'll have to wait just a little. But if you were planning on watching a day or so later, that might not be a problem. A free trial is also available for NFL Game Pass, but it's $49.99 after that. It offers full replays or condensed versions of games, too.
Hulu With Live TV
If you already have a Hulu subscription, you're in luck: you can watch on Hulu with Live TV as long as your local NBC affiliate is available in your area. You just have to enter your zip code to check. And if you're not subscribed, then you can take advantage of a free trial.
YouTube TV
It will cost you $35 a month, but you can jump over to YouTube for all your live TV streaming needs. However, it might not be available in every city, so you'll want to check this one out before relying on it as your soul source of Super Bowl viewing.
Sling TV
Sling TV has a variety of packages that start at $20 a month, but as long as you pick the right plan for you, you can stream NBC on game day.
Playstation Vue
The monthly packages on Playstation Vue can cost you between $39.99 and $74.99 depending on what you choose. Your budget dictates what you can afford, but it's worth it to know the possibility is out there. Once again, however, it's not available in every city.
DirecTV Now
You can stream on DirecTV Now as long as NBC is available in your area, but you can't do it on your phone. You'll need a TV, tablet, or computer instead.
Yahoo Sports
The Yahoo Sports app will also be streaming the big event live, just in case any of the other apps don't work for you, for whatever reason.
With so many different ways to catch the Super Bowl, there's no way you'll miss it.
Check out Romper's new video series, Romper's Doula Diaries:
Watch full episodes of Romper's Doula Diaries on Facebook Watch.