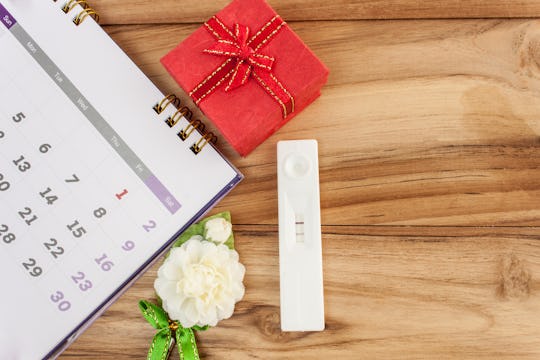 Fotolia
How To Survive The Holidays When You're Trying To Conceive
Holidays are a time for family, which can mean it's a time riddled with all kinds of unpleasant feelings, especially if you're trying to make your own and having trouble. I know, because this is my second holiday season without a baby bump, which is not how I envisioned things when I decided how my life should look (ha). As a result, I've learned how to survive the holidays when you're trying to conceive (TTC), even though it's full of ups and downs. You'll have good days when you're feeling hopeful, and bad days when you walk through your newly-decorated town wailing, not caring about that one passersby in their Santa hat.
What's helped me? Faith. Faith in myself, and my ambition to get what I want. Faith in my friends, who send me texts with the baby emoji on it that read, "Arriving soon." Then, of course, with faith comes a whole lot of self-care. I'm not one to believe in religious prayer — just not my thing — but if prayer is something you treasure, what better time to practice than during the holidays, when holiness is on fleek.
A therapist once told me that self-worth is determined by how much you can hold on to yourself in times of adversity. That notion had to sit with me for a while until I could fully understand what it meant. Here's what I came up with: knowing who you are can be painful because that means accepting your flaws. However, it can also be beautiful because no one else in the whole world is you. Some way, some how, I will have my baby. I know this like I know myself. The process is going to be flawed and it's going to have challenges. That's OK. The holidays are likely a time that will challenge you, but when you have your little one (and I know you will, because if you want something that badly, like me) you will do everything to fight the good fight. It's not going to look like how you thought it was going to look like, but you'll get through the holidays when you're TTC because you're a warrior. If anything, these following tips will just aid you.