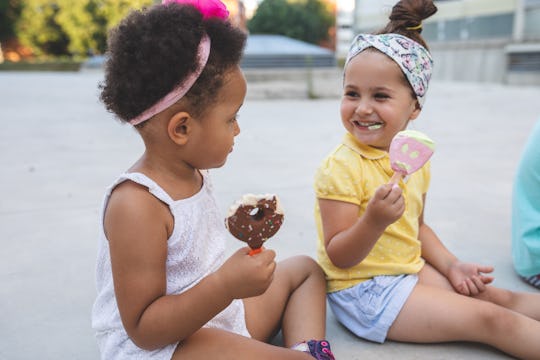 FluxFactory/E+/Getty Images
Here's How To Really Talk To Your Toddler About Race, According To Experts
At this point in time, most socially aware parents know that talking to their kids about race is important. But when do you start? Kindergarten? First grade? Or much earlier? This might come as a surprise, but talking to toddlers about race isn't just possible, it's important... especially for parents who have the luxury of seeing this as a choice.
"White parents must take the lead from parents of color, who begin speaking to their children about the realities of race from toddlerhood," trauma counselor Ilyse Kennedy, LPC, LMFT, tells Romper.
Depending on how you grew up, talking to your 2-year-old about race might feel uncomfortable, or you might not know how to navigate the conversation, but it's crucial that you press on anyway.
"Usually discomfort has more to do with our own issues around race that we learned from growing up and has less to do with any difficulty that children have in talking about it," says Lacey Fisher, LPC, a registered play therapist. But the alternative to feeling uncomfortable is much worse.
"Silence about racism has a far more negative impact on children and communities," Fisher tells Romper. And no, toddlers aren't "too young," because they're not too young to notice that someone's skin is a different color.
"Babies begin to discriminate and show preferences for features that [are] familiar beginning at 6 months," licensed psychologist Han Ren, Ph.D., tells Romper via email. "Knowing this, there is never too young of an age to surround your child with diversity in toys and books."
Fisher agrees. "Multiple studies document the ways that young children take notice of racial differences and note that, as early as preschool, children may begin excluding their peers of different races from play and other activities," he says.
Here are some things the experts say are important for parents to remember when discussing the topic of race with their toddlers.