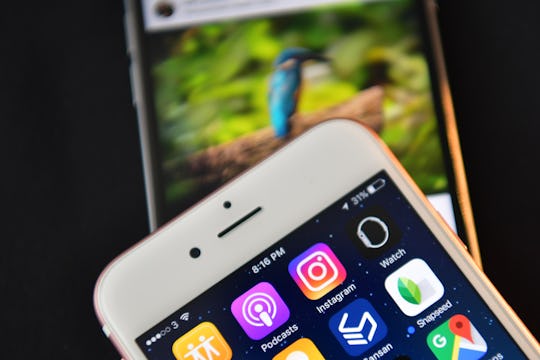 Carl Court/Getty Images News/Getty Images
Here's How To Use Superzoom On Instagram, So Get Ready For Your Close-Up
Instagram has been seriously knocking it out of the park with updates in recent months. OK, sure, everyone was a little horrified when Instagram Stories was rolled out and looked pretty much exactly the same as Snapchat Stories. But everyone eventually got on with their lives. Now that the social media sharing platform has rolled out a whole new set of updates, users are going to want to figure out how to use Superzoom on Instagram right quick. Because your friends need to see those close up shots of your nostrils, and time's-a-wastin'.
Instagram announced it would be adding Superzoom to Instagram Stories for iOS and Android users on Thursday. If you haven't checked out the Superzoom feature on Instagram, here's a quick rundown; it allows users to take a video of them slowly zooming in on something (their own face, a friend's face, their dog, whatever) and share that with followers. Superzoom is already being praised by tech insiders like the website Tech Crunch as a fun, silly add-on to other Instagram features like the massively popular Boomerang GIFs, Hyperlapse time-lapse, and Layout photo collages.
Superzoom might not be the cure for cancer or anything, but it's easy-to-use, fun, and a way to pass the time harmlessly playing on Instagram.
To take full advantage of the new Superzoom feature, here's what you do:
Open the Instagram app on your phone and swipe right
If you have the latest update of Instagram installed, Superzoom should be available to select at the bottom of your phone where other options like Boomerang are listed. If not, flip through the menu options until you find it.
Highlight the tool in the story camera, choose rear- or front-facing camera (either to zoom in on yourself, someone or something else), and tap the button.
Superzoom will film a three-second video, complete with dramatic music, automatically once you've tapped the button once. But if you would like to film something longer, simply hold down the button.
According to The Verge, the inspiration behind the dramatic Superzoom feature may have come from an unusual source; a rodent. The site explained:
A decade ago, a five-second clip of a prairie dog went viral. "Dramatic Chipmunk," as it was erroneously titled, captivated the internet — and dramatic zooms have featured in popular culture ever since. And while you've long been able to create one by using the manual zoom feature of your smartphone camera, Instagram has a new tool that will do it for you automatically.
Superzoom is obviously perfect for Halloween; you can share ominous selfie reactions to costume fails, end a scary story on a perfect note... the dramatic world of close-ups will be your oyster.
Superzoom isn't the only feature Instagram rolled out on Thursday. Instagram Halloween stickers and filters are also available from Thursday until the day after Halloween, Nov. 1. According to Instagram's blog:
Whether you're planning spooky activities with friends or just hanging out at home, get into the Halloween spirit by turning yourself into a zombie, transforming from a vampire into a flying bat or getting lost in a mysterious fog. You can also add Halloween stickers to your photos and videos as a final touch.
Say what you must about Instagram, but the social media giant knows how to get into the season, whatever that season might be. Bunny ear stickers at Easter, a whole host of wintry filters and stickers for Christmas; and perhaps best of all, a legitimately cool way to give that perfect reaction to all things terrifying. Whether it's ghouls, or goblins, or the official end of PSL season, it all deserves a Superzoom dramatic close-up.
Watch Romper's new video series, Romper's Doula Diaries:
Check out the entire Romper's Doula Diaries series and other videos on Facebook and the Bustle app across Apple TV, Roku, and Amazon Fire TV.