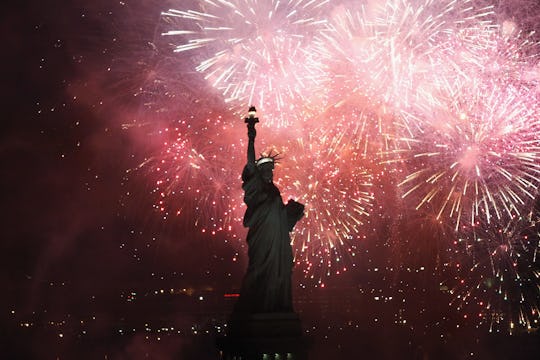 Spencer Platt/Getty Images News/Getty Images
You Can Watch The Macy's 4th Of July Fireworks From Anywhere
Independence Day is here, and for most Americans that means family, friends, and fireworks. You can head out to celebrate in local festivities, but if you're planning to stay home this year, don't worry, you can still watch a spectacular celebration from the comfort of your couch. If you are hoping to catch an impressive display, you should know how to watch Macy's Fourth of July fireworks, because it's the biggest and brightest fireworks show in the country.
Whether you're trying to escape the summer heat and massive crowds, or just love seeing fireworks iconically burst over the Statue of Liberty, NBC has got you covered this year. You can watch the Macy's Fourth of July Fireworks live on your local NBC channel, via livestream on NBC New York's website, or through your local NBC station's mobile app. The show, which includes numerous performances, begins at 8 p.m ET, with the fireworks display starting at 9:25 p.m. ET. If you are running late, you can catch a one-hour encore at 10 p.m ET, but the show may not be available on demand afterwards, so you'll need to either stream it live or set your DVR for record ahead of time.
As much as I love heading out to watch my local fireworks, this year I'm planning on celebrating at home. When you have little ones in the family, going to a crowded place and averting your eyes to the sky while your kids wriggle around is hardly enjoyable, so it will be nice to be able to watch from home in peace. But even if you're brave enough to trek out for a celebration, the Macy's special is still worth recording to watch later. With over 8000 hours of meticulous planning, 50 pyrotechnicians, and 3000 shells and effects firing off per minute, the 25 minute show is undoubtedly the most spectacular fireworks shows in the world. You'll see majestic views of Lady Liberty as the 25 color display shoots a whopping 1000 feet above her, lighting up the East River and the surrounding New York City skyline.
But fireworks is not all you get with the Macy's Fourth of July special. Some of the world's top artists, including Blake Shelton, Ricky Martin, Keith Urban, and superstar Kelly Clarkson, who will be performing "God Bless America" in honor of the song's 100-year anniversary. The American Authors are also scheduled to perform, along with the West Point Band and Glee Club, which will be performing the country's patriotic anthems, "The Stars and Stripes Forever" and "The Star-Spangled Banner." As if that isn't amazing enough, Hamilton star, Brandon Victor Dixon is set to perform "America the Beautiful" alongside the Harlem Gospel Choir.
Matt Iseman and Akbar Gbajabiamila of "America Ninja Warrior" will be hosting the two-hour broadcast from midtown Manhattan, as nine barges line the East River to set off the stunning aerial displays. Macy's is promising that this year's show will be one of the grandest displays ever, featuring more than 75,000 shells, and making it the biggest Macy's fireworks display since the 2000 Millennium Celebration.
Along with watching the celebration, you may want to take a minute to think about why Independence Day is so important. It's not just about the fireworks, food, or store sales, the Fourth of July marks the country's first step towards becoming a nation of freedoms, and that is something every American should cherish. There are still countries in the world where justice, freedom, and domestic tranquility are not basic human rights, so as you see the fireworks bursting over the Statue of Liberty, take a moment to appreciate this amazing land and the freedoms it has been fighting for.