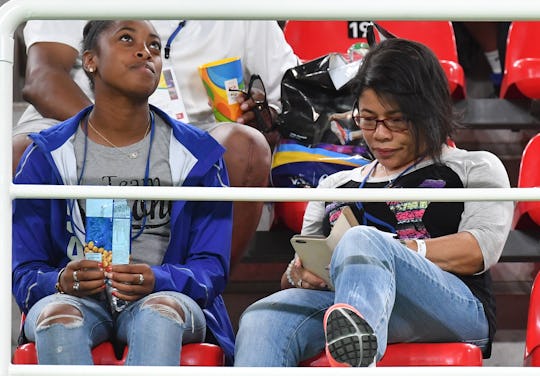 BEN STANSALL/AFP/Getty Images
Is Adria Biles In College? She's Younger Than You Think
Simone Biles was the golden girl of the Rio 2016 Summer Olympic Games — for good reason, too. She won four gold medals and one bronze medal. She slipped on the balance beam, but still managed to come in third place. That's how good Biles is. There were many incredible moments for the talented gymnast, all made more poignant by the presence of her close knit family. Her parents and younger sister Adria were there supporting Simone every step of the way. Adria cheered from the stands as her sister became the greatest gymnast of all time. Adria was so supportive, in fact, that it caught the attention of many gymnastics fans and had them wondering whether Adria Biles was in college, and whether Simone's gymnast sister would also be making her debut at the Olympics in time.
As it turns out, Adria is not in college — yet. According to her Instagram account, she's heading into her final year of high school. Adria is only 17 years old, so college is still a little ways off for the youngest Biles sister. It seems as though Adria is enjoying her last summer before senior year, and it doesn't hurt that she's spending it in Rio De Janiero, either.
Aside from the fact that she had front row seats at the Olympics, Adria is normal, fun teenager. She posts cute pictures of her and her friends on her Instagram account and even likes to make YouTube videos with her big sister.
Adria also happens to be a talented gymnast as well. She participated in her first gymnastics competition at the age of 9 and currently competes at the junior elite level. She's close to reaching the elite level, like her sister before her. She took some time off to travel to Rio with her family, however, Adria is still taking her training regimen seriously. Her most recent competition was the 2016 Level 9 Western Gym championships in April. Simone cheered her little sister on via Instagram.
Adria and Simone are always supporting each other. In fact, the dynamic duo are super close. The two frequently take to their social media accounts to say how lucky they are to have one another. On Simone's birthday, Adria said of her big sister:
I'm so lucky to have someone like you to call my sister/best friend everyday with you is a different adventure and whether we're laughing crying or punching each other in the end I still love you probably more than you know.
The two even get together to make cute videos they put up on YouTube. If they aren't #SisterGoals, I don't know what is.
Adria has an important year of school ahead of her. Whether she follows in her sister's footsteps or goes on to pursue a college education, you can be sure Simone will be supporting her every step of the way.