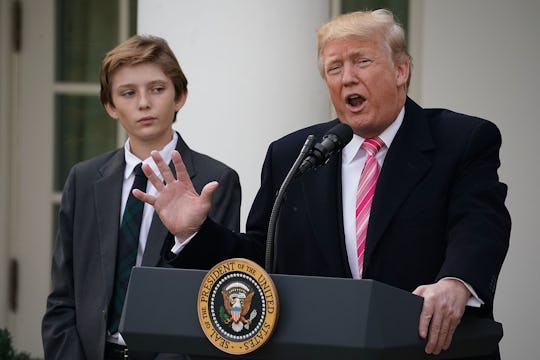 Chip Somodevilla/Getty Images News/Getty Images
Here's Why Barron Trump Isn't At His Dad's First State Of The Union
It's probably pretty stressful being the child of a president, no matter who that president is. Whether they're well-liked or not, once your parent is elected, you probably have to deal with a lot. So even though it's totally normal to wonder if Barron Trump is at the State of the Union, it also shouldn't matter if he is or isn't. He is an 11-year-old kid, after all.
As it turns out, he is indeed sitting this one out, according to the Washington Examiner, and as things got under way on Tuesday night, Barron was nowhere to be seen. At a press briefing Monday, White House Press Secretary Sarah Huckabee Sanders informed reporters that the youngest of Trump's children was not expected to be in attendance, explaining:
In terms of family, all of the President's children, along with the First Lady, will be at the State of the Union with the exclusion of Barron. I don't believe he will be attending as of right now.
While some may have expected to see him since he's a part of the first family, Barron not attending the State of the Union Barron is totally understandable. He is only 11 years old, and since this address is on a Tuesday night, he probably has homework to do and probably has to get ready for school the next day. Ah, to be young again. But more importantly, Barron is a kid and something like the State of the Union doesn't really require his presence, even if his dad is President Donald Trump.
Plus, other people who are attending the speech along with First Lady Melania Trump, and those people are particularly noteworthy. As Sanders noted earlier this week, Trump's older children — Donald Trump Jr., Eric, Ivanka, and Tiffany — are all expected to attend the speech held at the U.S. Capitol in Washington, D.C.
Additionally, however, it's tradition for presidents to also invite special guests to sit with the family and watch them give their speech. This year is no different in regards to this longstanding tradition, as it has been reported that the Trump's guests at the State of the Union address "will include a wounded veteran, the founder of a group that aided hurricane rescue efforts last fall, and a police officer who adopted a child from opioid-addicted parents," according to Politico. Trump's invitees to the State of the Union all serve a political purpose, with a couple of the guests being on the receiving end of Trump's tax cuts.
As Sanders explained at the press briefing, all of the invited guests represent the kind of America that Trump wants to bring back. At the press conference on Monday, Sanders said:
Some of these individuals' stories are heroic, some are patriotic, others are tragic. But all of them represent the unbreakable American spirit, and will inspire our nation to continue growing stronger, prouder, and more prosperous.
While young Barron might be staying home to get a good night's sleep, that doesn't mean that Melania will be attending this year's State of the Union alone. And even though personal and political opinions of Trump tend to err on the side of disapproval, that doesn't mean that the State of the Union will be any less watched. After all, the State of the Union is all about the president assuring the American people that all is well, and that any threats out there shouldn't be of too much concern for the average citizen. Besides, ya know, the threat of nuclear war that's probably on just about everyone's minds.
Honestly, Barron should count himself lucky to be sitting at home, probably playing video games or watching TV... or whatever it is 11-year-old boys do these days.