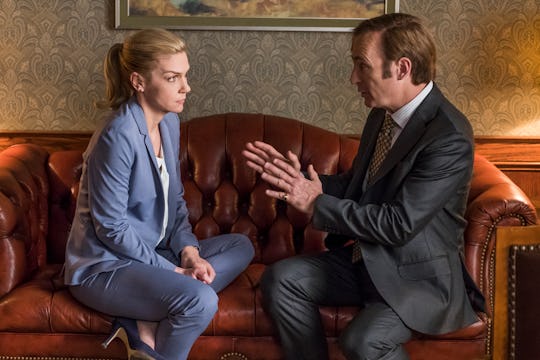 Nicole Wilder/AMC/Sony Pictures Television
Here's Why You Won't Be Hearing About 'Better Call Saul' At The 2018 Emmys
It's that time of year of again. You've probably noticed the ads and commercials for some of your favorite shows stating "For your Emmy consideration." Well now, it's almost time for this year's Emmy nominations to be revealed, and of course there are already a number of front runners. However, there are some shows that viewers aren't too sure about. For example, is Better Call Saul eligible for the Emmys this year?
Unfortunately, the Breaking Bad prequel spin-off series is not up for the Emmys this year. The eligibility window for the 2018 Emmys is June 1, 2017 to May 31, 2018, and while three episodes of the third season of Better Call Saul falls in this window, the show chose not put them up for consideration. Additionally, the series received nine nominations for its third season back in 2017, and while many of those noms were based on specific episodes, most of them were centered on the season as a whole. So Better Call Saul is out of the running this year.
Although this may feel like a blow to fans, it definitely shouldn't. Better Call Saul has already racked up 23 nominations, though no wins yet, and the only reason the show is sitting out this year is because it's not eligible not unqualified.
For example, Game of Thrones missed out on the Emmys last year because its seventh season was released too late for it to be eligible for the 2017 Emmys. However, now the season is eligible and no doubt it will be back to sweeping the nominations in the Drama categories. Or perhaps not. This will be the first year Game of Thrones and The Handmaid's Tale, last year's top winner, will face-off and it'll be interesting to see which series walks away with the most nominations and wins.
Back in 2016, Game of Thrones broke the record for the most awarded scripted series in the history of the Emmys and won the Emmy for Outstanding Drama Series in both 2015 and 2016. Now, with the show most likely going head to head with The Handmaid's Tale, which won the Outstanding Drama Series Emmy last year, it's really hard to say who will walk away with the win. That also doesn't include newcomers like Killing Eve.
As for Better Call Saul, you can expect the series to be back in the running next year. The series' fourth season will begin airing on August 6, 2018, putting it right where it needs to be for the 2019 Emmy season. This season will surely be a major one as Jimmy McGill is now even closer to becoming Saul, the character most fans know and love from Breaking Bad.
At the end of Season 3, Jimmy's brother Chuck ended his own life and in this fourth season fans will see Jimmy dealing with the fallout of Chuck's death, while also trying to get back on his feet as a lawyer after not practicing for a few months. In addition to the anticipation of seeing Jimmy complete his transformation into Saul, viewers are also hoping to see more Breaking Bad characters come into play this season. Towards the end of last season, Breaking Bad character Lydia Rodarte-Quayle made an appearance and the creator of both shows, Vince Gilligan, has teased that more important Breaking Bad characters will be making appearances in Season 4.
Thus, there's plenty to look forward to in Season 4 and it's sure to be just as good, if not better than, the previous three seasons. Hopefully Season 4 will finally be the one to get Better Call Saul an Emmy win or two. Unfortunately, we'll have to wait until 2019 to find out.