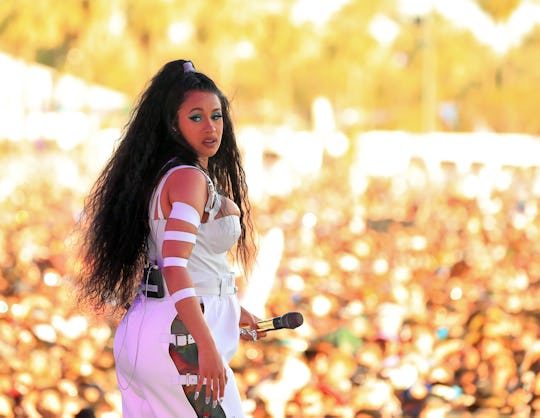 Christopher Polk/Getty Images Entertainment/Getty Images
Cardi B 'Underestimated This Whole Mommy Thing' & Oh Yes, Other Moms Can Relate
Rapper Cardi B was all set to tour with fellow performer Bruno Mars this fall, but motherhood changed her plans. Cardi B "underestimated this whole mommy thing," and a lot of moms trying to juggle new motherhood and careers can probably relate. Even being a major music superstar doesn't mean that challenge goes away entirely.
On Thursday, the record-breaking rapper behind "Be Careful" and "I Like It" announced on Instagram that she will not be joining fellow entertainer Bruno Mars on his 24K Magic World Tour. Instead, she's going to take some more time with her family, and to recover both mentally and physically from giving birth and adjusting to life as a mom.
Cardi B's choice is one moms the world over have to make every day. She may have more access to help in the form of nannies or other staff — though we don't know that she utilizes any of that — but even if she had extra help, giving birth and learning to be a new mom are formidable challenges. Committing to a tour so soon after welcoming her daughter may have just proved too much for the rapper who usually seems like she can handle just about anything.
Cardi B posted a wall of text to her official Instagram account on Thursday explaining her decision. The message read in full:
As of today, I've decided I won't be joining Bruno on tour this Fall. I thought that after giving birth to my daughter that 6 weeks would be enough time for me to recover mentally and physically. I also thought that I'd be able to bring her with me on tour, but I think I underestimated this whole mommy thing. Not only am I just not ready physically, I'm not ready to leave my baby behind since the doctors explained it's not healthy for her to be on the road. I hope you guys understand that this decision has been the hardest to make but I have to do what's best for myself and my baby! Thank you Bruno for being so supportive and understanding.
Cardi B really hit on a lot of relatable points in her Instagram message. "Underestimating" everything that being a new mom entails is probably something a lot of people have been through. And it's hard to know exactly what physical and mental toll giving birth and parenthood can take on you until you go through it.
Cardi B also noted that she isn't ready to leave her baby to go back to work without her. That's obviously something plenty of moms deal with — you can love your job a whole lot, and still fret over returning to work once you have a child to care for as well.
Cardi B gave birth to Kulture Kiari Cephus on July 10, according to CNN. The baby girl is her first child with husband and rapper Offset, whose legal moniker is actually Kiari Kendrell Cephus.
While Cardi B may have kept her pregnancy a secret before she went public with it in April during an appearance on Saturday Night Live, she's been pretty open with her fans about being a mom on social media since she welcomed her daughter. This message is just another way Cardi B is being real with her followers about life as a new mom.
Editor's Note: The Instagram post has since been deleted.
In response, Mars posted on Instagram about Cardi B's decision as well. His message said: "A Message for Cardi. Most important thing is you and your family's health. I know the fans will understand. You are absolutely doing the right thing."
Mars went on to write:
I also know we'll share the stage when the time is right. We love you Cardi and we will play Bodak Yellow every night in your honor. Please give your baby girl a hug from me and a hug on behalf of everyone on The 24k Magic Tour. Love, Bruno.
And fans really did seem to understand where Cardi B is coming from with this announcement. The replies on her Instagram post ranged from "You're a good Mommy... just do what's best for your family," to "Babies before Bruno 💗," to "Mommy life always, u don't have to regret a single thing." There were a few negative comments, but they were truly few and far between.
It's completely understandable that Cardi B "understimated this whole mommy thing" because after all, she's never been through it before. Hopefully her fans will continue to let her grow and learn, all the while remaining the rap superstar they know and love.