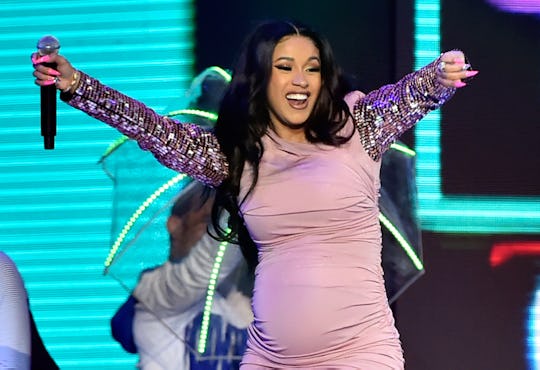 David Becker/Getty Images Entertainment/Getty Images
Cardi B Chose An Interesting Name For Her Newborn Daughter
On July 10, Cardi B welcomed her baby girl, who has reportedly been named Kulture Kiari Cephus. It's a unique name, so what inspired the choice? Is Cardi B's daughter named after someone?
Cardi B posted about her daughter's arrival on Instagram, though aside from Kulture's name and birthdate she didn't provide further details. She's probably a little too busy at the moment, having just given birth, to write a blurb about what led to the name choice. But Cardi did discuss the decision prior to her baby's birth, and some of the inspiration for Kulture's name is easy to figure out. Since Cardi knew that she was having a girl long before her daughter was born it seems like everything was planned way in advance.
Kulture's middle name Kiari comes from her father Offset, a member of Migos. It's actually his real name. Though his stage name might be more familiar to fans, Offset is actually named Kiari Kendrell Cephus. And in addition to providing Kulture's middle name, it seems he also chose her first. When appearing on The Ellen DeGeneres Show back in May of this year, Cardi B revealed, "My dude named the baby. I really like the name."
Migos fans will be quick to point out that their last two albums were 2017's Culture and 2018's Culture II. It looks like Offset is so fond of the word that with just a simple letter change, it became the perfect choice for his fourth child's name (Kulture joins brothers Jordan and Kody, as well as sister Kalea Marie, from previous relationships). Vulture pointed out a lyric from "T-Shirt" could have been a reference, too: "do it for the Kulture, they gon' bite like vultures." It seems like Kulture's full name is an ode to her dad.
Don't expect too many more details about the new baby, however; Cardi B has made it clear that she's serious about maintaining her privacy, and she's good at it too. Fans thought she and Offset had only recently become engaged onstage during Power 99 Radio's Powerhouse concert in Philadelphia — until it was revealed that they'd gotten married in September at their home in Atlanta. As Cardi said on Twitter, "There are so many moments that I share with the world and then there are moments that I want to keep for myself. Getting married was one of those moments."
In an interview with Rolling Stone, Cardi also mentioned that she wasn't sure about the idea of sharing things about her child on social media. "I'm iffy about it," she said. "My feelings get hurt when people online talking about family members. I think I'll kill somebody if somebody talking about my child like that." But she was very open about all the plans she had in mind before her daughter was born: she was imagining her kid learning Spanish and French, taking boxing lessons, and maybe ballet, too. She wanted her daughter to be able to defend herself.
Cardi also mentioned that she wanted her baby by her side at all times, telling Rolling Stone:
What I envision is my tour bus has my own personal room, and I just want to be with my baby. Only time I don't have my baby with me is when I'm getting my hair done, makeup done, performing. I don't want to miss one second. I don't want to miss no smiles, I don't want to miss no new movement, I don't want the baby to confuse me and the babysitter.
It sounds like Cardi B was planning her daughter's future as far in advance as her name was decided. Kulture's name might be untraditional, but it seems to have meaning for her parents, which is what matters.