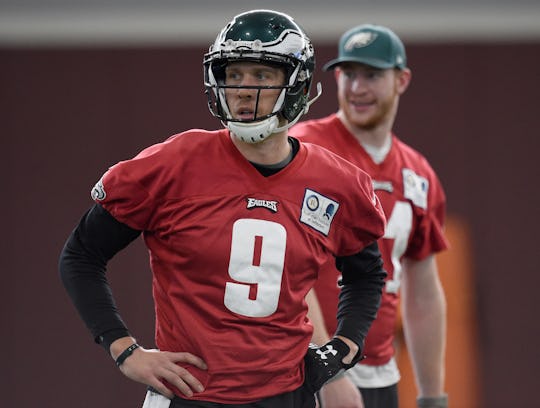 Hannah Foslien/Getty Images Sport/Getty Images
Is Carson Wentz At The Super Bowl? Here's Where To Look For The Injured Quarterback
As the starting quarterback for the majority of the regular season, Carson Wentz is a big reason the Philadelphia Eagles are where they are today. However, when the star athlete became injured in week 14, fans feared their hopes for a Super Bowl appearance had gone down with him. Despite the odds being stacked against them, as the Eagles prepared to take on the New England Patriots Sunday night at Super Bowl LII, fans were probably all wondering the same thing: Is Carson Wentz at the Super Bowl?
In short, yes, Wentz is at the Super Bowl. Ultimately, though, the injured quarterback will be only supporting his teammates from the sidelines this evening. Wentz helped his team achieve an 11-2 record during the first 13 games of the regular season — and he was even in the running for MVP honors, reported CBS Sports. However, in week 14, the rockstar quarterback was seriously injured on Dec. 10 while playing against the Los Angeles Rams. According to the publication, Wentz sustained tears of the anterior cruciate and lateral collateral ligaments. (Ouch!) Eagles fans' hopes for a Super Bowl appearance were all but shattered at the time, as backup quarterback Nick Foles took over. However, the team still managed to end the season with an impressive 13-3 record, according to NFL.com. (Not including the team's two wins during the playoffs so far.)
And here we are today: The Philadelphia Eagles made it to the Super Bowl even with Wentz sidelined for the season. Although the injured quarterback hasn't been able to physically be playing on the field to help his team to victory, he has remained active and involved in other ways. "I am trying to do what I can," Wentz said, according to USA Today:
I am definitely not trying to overdo anything but coming in in the mornings with Nick and Nate (Sudfeld) and really trying to do what they did for me all season. Help them, be with them in the film room, talk to the guys and say what I see. Nick has done a great job and really taken that leadership role so I am trying to support him as best I can.
Teammates seem to agree that Wentz remains an asset to the team, even after his season-ending knee injuries. "He was a very positive influence on the field and he is still a positive influence after he got injured," wide receiver Torrey Smith said, according to USA Today. "That's important If you're trying to carry on the momentum." According to Skysports.com, Wentz is using his missing the Super Bowl as fuel for the future. "I'm going to use this as a learning opportunity and motivation," Wentz said. "Just being here all week, seeing it all, it will give me an edge to want to be back, without a doubt."
Still, Wentz recognized at a Super Bowl media day on Jan. 30 that Sunday night would likely be a bittersweet experience. "It'll definitely be mixed emotions right away. But again, I've been saying it all week since I've been talking — right when the team takes the field, the offense takes the field, it'll hit me a little bit but once I'm into, we're into it," Wentz said, according to Twincities.com.
So yes, fans will definitely see Wentz during the Super Bowl. Prior to kickoff, the team captain will even carry out his duties for the coin toss, as The Philadelphia Inquirer reported. But then it's to the sidelines he'll go, where he'll cheer on his teammates and watch Super Bowl LII unfold, just like the rest of us — only with an infinitely more awesome vantage point.
Check out Romper's new video series, Romper's Doula Diaries:
Watch full episodes of Romper's Doula Diaries on Facebook Watch.