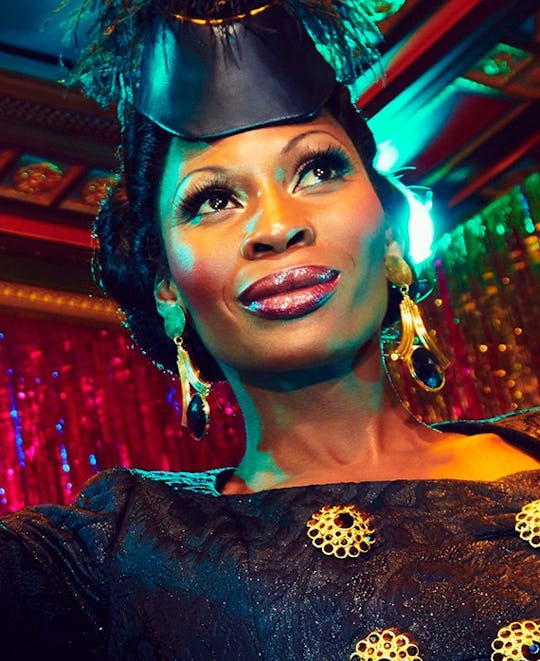 FX
What We Know About The Inspo Behind Elektra Abundance On 'Pose'
Pose is unlike anything Ryan Murphy has ever done and frankly, unlike anything most viewers have ever seen on television. The show is set in 1980s New York City at the height of the ballroom scene and one of the main houses is the House of Abundance, commandeered by the Elektra Abundance. Since there are so many realistic aspects to the show, it's worth wondering if the House of Abundance actually existed. For example, is Elektra Abundance based on a real person or is she entirely made up for the show?
Elektra is played by Dominique Jackson, who you might recognize from Strut, a reality modeling show. Elektra is a powerhouse — she's the "mother" of the House of Abundance and is egged on when Blanca strikes out on her own to create her own house and gather her own "children." Although there's a lot about Pose that's based in reality, the House of Abundance and Elektra are totally fictional. But Murphy didn't just pull these situations and people out of thin air.
The most iconic ballroom house, the House of LaBeija, was founded in 1970 by Crystal LaBeija, and eventually taken over by Pepper LaBeija, who ran it for over 30 years. Other well-known houses were Omni, Blahnik, and Xtravaganza. So even if Abundance and Elektra are made up, they're rooted in a little bit of everyone who was on the scene at the time.
Jackson was actually part of the ballroom scene, too, when she first came to New York City, according to an interview she did with Refinery 29. She said, "I eventually ended up coming to New York, and I got into the ballroom scene and I met these women, some of the most beautiful girls I've ever seen. I knew I wasn't gay and I wasn't straight, and now I realized that I could be a woman."
Jackson says that she discovered her found family one night in Baltimore while she was out and a man was hitting on her. Before she could leave with him, a group of women told her to stop. "That saved my life because this guy was infecting people [with HIV/AIDS] on purpose. I discovered the ballroom scene that night," Jackson recalled. She continued:
They started to tell me all about it and that I could walk, and I'm thinking to myself that I never thought of myself as beautiful or good looking or anything like that and here these people were telling me that I was beautiful. Shatera, the mother of the house, said 'You're going to be family.' I looked at her and laughed because I didn't think at that point in time that it was possible. But eventually I ended up coming to New York and joined the ballrooms in New York.
She told Time Out that when she read the script it felt real. Jackson said, "Pose has really tapped into some realities that I know would have come from someone who really took time to research ballroom, because some of the lines that I have to deliver as Elektra are lines that mothers of mine said to me. And the dynamic of the family that exists in ballroom is so well represented here; we're not masking it, we're giving you the truth."
That really comes through when you're watching. The creators of the show went to great lengths to make sure that they're representing the era as accurately as possible. Not only have they cast five transgender actors to actually play transgender characters, and women who were actually in the scene, but Hector Xtravaganza, another ball legend, were all was a consultants on the show, according to Deadline.
The original source material for the show was written by queer Afro-Latinx writer and New York City native Steven Canals and Janet Mock was brought on as a writer, director, and producer. So everyone who put Pose together — including Jackson — likely have a deep connection to the material. Elektra and the House of Abundance might be fictional, but in a way, they're very, very real.
This article was originally published on