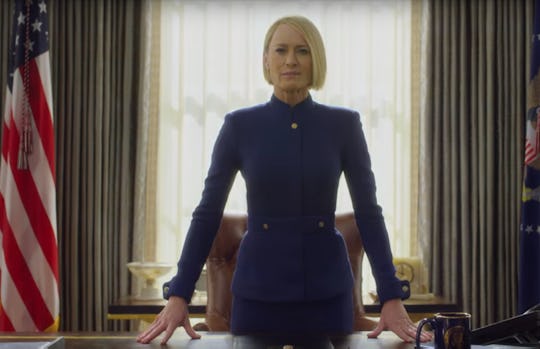 Netflix/Youtube
Here's The Reason 'House of Cards' May Be Absent From The Emmys
Emmy season is here, and fans all over the world are hoping that their favorite shows get nominated. Kevin Spacey was fired from House of Cards following allegations of sexual assault, but the show is going on with Robin Wright at its helm instead. Because of the change, the show did not follow its usual schedule, so you may wonder if House of Cards is eligible for the Emmys this year.
House of Cards will not be nominated for an Emmy Award this year, and it has everything to do with timing. The show's last five seasons premiered before the Emmys' May 31 cutoff date, putting it squarely inside the nomination eligibility window. But the show has yet to air its sixth and final season this year, so it will not be nominated.
The show is being reworked due to Spacey's firing following Star Trek: Discovery actor Anthony Rapp's allegations that Spacey made unwanted sexual advances toward him when he was just 14 years old. In an interview with Buzzfeed News, Rapp alleged Spacey had invited him over for a party at his apartment, but when all the guests had left, Spacey initiated a sexual encounter. Rapp said that he was able to "squirm" his way out from under Spacey, and then left his apartment.
Spacey responded via Twitter saying, "I honestly do not remember the encounter, it would have been over 30 years ago. But if I did behave as he describes, I owe him the sincerest apology for what would have been deeply inappropriate drunken behavior, and I am sorry for the feelings he describes having carried with him all these years." In a widely criticized move, in the same statement Spacey came out as a gay man. He went on to say that he "has loved and had romantic encounters with men" throughout his life, and wanted to "honestly and openly" examine his own behavior."
After these details emerged in October of 2017, Netflix decided to stop production on House of Cards and fired Spacey, leaving the series' fate up in the air. It wasn't until January that Netflix announced it would continue production on the series with Wright's character Claire taking over as the lead. So, there was not enough time for them to film, edit, and release the series before May 31.
Luckily, for House of Cards fans, the show will still go on, and will hopefully end with some closure in its final season, which still does not have an official release date. In a press release, however, Netflix revealed that in addition to handing the reins to Wright, the show would be adding stars like Greg Kinnear and Diane Lane to the mix.
In a recent interview with the Today Show, Wright revealed that she will be directing the series finale as well. And when asked about her thoughts on the scandal and firing of Spacey, Wright admitted, "I didn't know the man. I knew the incredible craftsman that he is." She then added, "I think at that time the shock was so intense all over the nation, for many reasons, many stories, many people, I think that everybody felt that it was respectful to back off."
In an era of unmasking sexual harassment and holding people accountable for their actions, waiting one year to see your favorite show at the Emmys seems like a fair price to pay. In the meantime, you can catch the trailer for Season 6, where you see a bustling White House and Claire sitting in the Oval Office like a boss. In the middle of the trailer she stands up and says, "We're just getting started." How true.