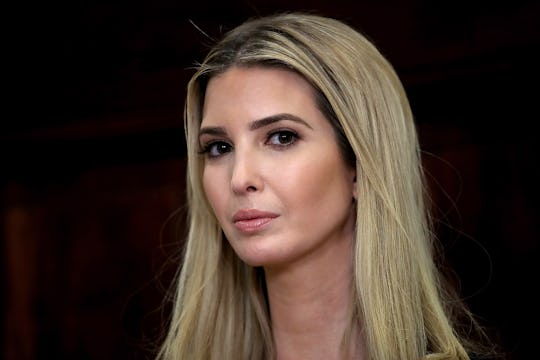 Win McNamee/Getty Images News/Getty Images
If You're Wondering If Ivanka Trump Is At The SOTU, Wonder No More
During the 2016 presidential election, it's safe to say that President Donald Trump had something of an ace-in-the-hole with his daughter, Ivanka Trump. The mother-of-three and successful entrepreneur enjoyed spectacular popularity ratings on both sides of the aisle, and gave the impression of having a softening, humanizing influence on her father (who can sometimes be a rather tough pill to swallow). Times have changed since Ivanka's early glory days on the campaign trail, though. Not quite as popular as she once was, Ivanka's appearance at the State of the Union was watched closely by people who were wondering if she does, indeed, have sway with her father. And if she does, how does she use her influence on the president?
Since Trump's inauguration a year ago, Ivanka Trump's life looks very different. She and her husband Jared Kushner moved their family of five to Washington, D.C. and gave up their previous jobs to take on their new roles as unpaid White House advisers to the president. While her brothers Eric and Donald Trump Jr. took over the task of running the family business, Ivanka extricated herself from her own eponymous fashion label to reportedly concentrate on her own personal agenda in the White House, including women's rights and a child tax credit bill. While Ivanka appears to be making headway on the the child tax credit, her report card when it comes to women's issues in the White House has not fared well so far. In fact, some might even go so far as to say her commitment to women's rights issues is purely rhetorical.
Ivanka was there to support her father at his State of the Union address, just as the rest of his children (save his youngest son Barron) were. She shared a picture of her family sharing a meal before the State of the Union on Twitter, and her youngest sister, Tiffany, was spotted early on in the evening.
While the other Trump children, sons Eric and Donald Trump Jr. and daughter Tiffany Trump, were on hand in a supportive capacity, there is a different expectation level for Ivanka Trump. Particularly considering the charged atmosphere surrounding the #MeToo and #TimesUp movement that made its way to the White House on Tuesday. As Democratic women made the decision to dress in black to support victims of sexual harassment at home and in the workplace, all eyes were on Ivanka Trump. Would she support the movement and the women behind it, or would she turn a blind eye in deference to her father?
As her father spoke to the rest of the country about immigration, about unity, and about the economy, this was a real opportunity for Ivanka Trump. To support other women with a simple wardrobe choice, to stand in solidarity with the countless victims of sexual harassment and perhaps make a small (arguably shallow) but valuable difference. To offer a glimmer of hope that, despite some of the frankly misogynistic policies to come out of her father's administration regarding reproductive rights, gender pay equity, and actually stand for something more than simple rhetoric.
Ivanka wore a plaid dress.
It might have been a simple wardrobe choice, sure. But, as a fashion industry icon, Ivanka must have known that her one simple choice spoke volumes to the women she chose not to stand beside. In fact, Ivanka chose not to take any side at all; Republican women planned to show up for the State of the Union address wearing red, white, and blue to support the troops. Democratic women chose to wear black in solidarity with the #MeToo movement. And Ivanka Trump seemed to hedge her bets, as usual. Careful as ever to say nothing that might offend. Forgetting, perhaps, that saying nothing speaks volumes.
Check out Romper's new video series, Romper's Doula Diaries:
Watch full episodes of Romper's Doula Diaries on Facebook Watch.