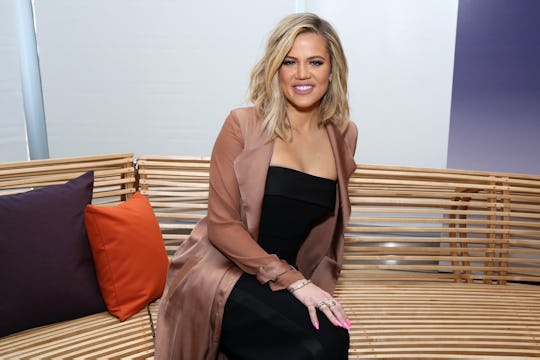 Cindy Ord/Getty Images Entertainment/Getty Images
Khloé Kardashian Is "Over The Moon" To Be Back In Los Angeles & Raising Her Daughter, True
Khloé Kardashian has had quite the year. It's a little more than halfway through 2018 — but Kardashian has accomplished so much. This past spring, Kardashian moved from her hometown of Los Angeles, California, to Cleveland, Ohio, to be closer to her boyfriend, Cleveland Cavaliers player, Tristan Thompson. It was there, in Ohio, where Kardashian gave birth to their child, a daughter named True. But now that True is just a few months older and the two of them have moved out west, Khloé Kardashian opened up about moving back to Los Angeles — and she's just as excited as fans could imagine.
As previously stated, this past spring, Kardashian made the move to Cleveland, according to People, where she ended up giving birth to her daughter, according to Us Weekly. At the time, Kardashian wrote on her website that she was grateful to be in Cleveland, according to People, if only it was because she finally got to stop traveling so much during a critical time in her pregnancy. "I obviously love both cities, but I will say I'm happy to be in Cleveland right now," Kardashian wrote at the time, according to People.
But now that she is back in Los Angeles, California for good, according to Us Weekly, Kardashian is singing a different tune. In a new post on her website on Thursday, Kardashian wrote that she was super excited to be back in her hometown for one main reason, according to Us Weekly — the fact that all of her family members (and their family) lives there, too.
Kardashian wrote on her blog, according to Us Weekly:
I'm over the moon about being home! Of course, I missed my actual house immensely while I was in Cleveland — there's nothing like enjoying your own home. I'm most excited about being so close to my family. Getting the kids back together and having True do all of her classes with her cousins is a great feeling!
Kardashian does indeed seem to be enjoying her time back home, given her frequent Instagram and Snapchat posts — and even documented one of the classes that True went to with her cousins that she was talking abut on Snapchat. Just last week, Kardashian posted videos on Snapchat of True, along with sisters, Kourtney Kardashian and Kim Kardashian, and brother, Rob Kardashian's kids attending "baby class," according to People, where the little kids sang, listened to music, and danced. And given how close True is in age to her other cousins (she was born months apart from Kim Kardashian's youngest child, Chicago, and Kylie Jenner's daughter, Stormi), according to Entertainment Tonight, it makes sense why Kardashian is so excited for her daughter to grow up around her family.
Although it felt like Kardashian had been in Cleveland for months, fans knew that she would return eventually. Weeks before Kardashian made her big move back home, her mom, Kris Jenner teased about Kardashian's impending arrival, telling E! News that Kardashian would "be home soon." Two weeks later, Kardashian returned to L.A., according to Elle, and was greeted with the most amazing gifts. Needless to say, her friends and family were pretty happy that she was back.
In the month and a half since Kardashian and True made their big return, they've gotten settled into their life in Los Angeles. In a blog post on her website earlier this month, Kardashian shared photos of True's gorgeous nursery, according to Us Weekly making it clear that she and True were ready to call L.A. their home. In case fans didn't think that Kardashian was happy to be back in L.A., she also revealed earlier this month that she finally returned back to work after being on maternity leave. Although Kardashian tweeted that she was initially anxious to return back to work, according to People, Kardashian wrote in a blog post earlier this week that it went a lot better than she expected. "On my first day back, True was perfect while I was gone," Kardashian wrote, according to People. "Plus, coming home was sooooo fun — I acted like I hadn't seen her in forever."
Based on her words, it seems like Kardashian has had a great time adjusting to life back in Los Angeles. But surely, having her newest addition in her life doesn't hurt the transition, either.