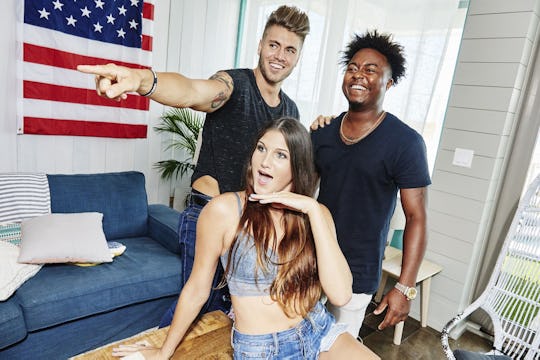 MTV
Kortni's Relationship On 'Floribama Shore' Looked *Very* Toxic
When the second season of Floribama Shore began, Kortni was dating a man named Logan. However as the season went on fans, and Kortni's friends and family, were less than impressed with the pairing. They believed there were a lot of red flags when it came to Logan and they may have been right. So is Kortni from Floribama Shore still dating Logan or did the couple split? The couple has definitely split and not on good terms. On Aug. 24, TMZ broke the news that Logan was under arrest after he allegedly broke a restraining order Kortni had taken out against him. Romper has reached out to Logan for comment.
According to a police report, problems began when Logan allegedly threatened to cut Kortni into pieces and showed up at a bar she was at with a knife. According to TMZ, Kortni did not call the police at this point and from April to June it seemed Logan was leaving her alone.
That was until Logan allegedly began texting her. One of those messages allegedly said, "I still love you it's never gonna change, bye for now baby momma." He also apparently stated in the message that he didn't care if he went to jail. This appeared to be the final straw for Kortni who reportedly called the police and let them know Logan had violated the restraining order. Although the cops could not locate Logan at first, TMZ reported they eventually found him and arrested him for aggravated stalking, stalking, and violating the restraining order. Logan is reportedly still in custody.
Of course, none of this has aired on Floribama Shore yet, but fans raised concerns early on when Logan became very angry with Kortni after she had a little too much to drink while they were out with her friends. He yelled about her behavior and how she was making him look. Still, after she had a talk with Logan, all was forgiven. However, soon after more red flags were raised during their phone calls.
Fans felt that Logan was way too possessive of Kortni and did not like how jealous he became over Jeremiah. Additionally, it was also revealed to Kortni that Logan had lied to her, her best friend, and her mother about having a job. At this point, Kortni's friend and mom sat down with Kortni to discuss their concerns, but Kortni ignored their warnings. Now, to further complicate matters, it looks like Kortni had a pregnancy scare with Logan.
In the preview, she is shown taking a pregnancy test that may be positive. However, in the present it does not appear that Kortni is pregnant.
Fans will have to keep watching to learn more about Kortni's pregnancy scare, but no matter how that plays out, it seems Kortni ends up making the best decision for herself by separating herself from Logan. It is unclear how much of what happened between Kortni and Logan leading to the restraining order will be aired on the show, but fans are hoping they will learn more about the whole situation before the season is over.
For now, it is just a good thing that Kortni is safe and out of what must have been a scary situation. Hopefully, this is the true end for her and Logan and she can move on.