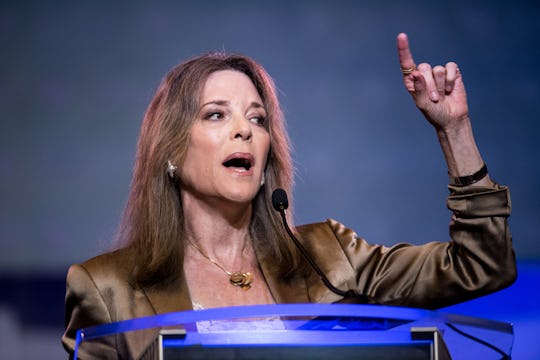 Sean Rayford/Getty Images News/Getty Images
A Quick Debriefer On Presidential Hopeful Marianne Williamson's Political Background
Given the wide range of 2020 Democratic candidates, it's understandable some voters were surprised to see a woman named Marianne Williamson at the second debate Thursday night. So, given her presence, many may be wondering: Does Marianne Williamson have a background in politics? As it turns out, she has little experience in this field.
There are a total of 24 Democratic candidates in the race at the time of this writing, and I won't be surprised if another contender pops up in the months to come. As for Williamson, she joined the race fairly early compared to some of her opponents, announcing her run in January, according to Vox.
If you haven't heard of Williamson up until now, there's a good chance you're not alone. The presidential hopeful has little background in politics, after all, and she has been pretty quiet since announcing her bid. But just because Williamson has maintained a low profile since January, it doesn't mean she hasn't led an interesting life thus far — in fact, I'd argue that her existence in general is pretty darn captivating.
For starters, Williamson is Oprah Winfrey's "spiritual friend and counselor," according to ABC News. The two reportedly met after Winfrey read Williamson's 1992 book, "A Return to Love," and she has since appeared on The Oprah Winfrey Show and Super Soul Sunday.
Williamson, who practices Judaism, has written 12 spiritual self-help books throughout her career, according to Marie Claire.
Williamson's spirituality has played a big role in her 2020 campaign, as evidenced by her announcement speech.
"We had a miracle in this country in 1776 and we need another one," she said, according to Politico. "It's going to be a co-creative effort, an effort of love and a gift of love, to our country and hopefully to our world." She added that America needs to get "back to an ethical center that is the true exceptionalism of the American ideal."
Spirituality aside, Williamson did run for a congressional seat in California in 2013, a race she lost, according to The New York Times. The spiritual guru seemingly blamed the loss on her advisors, stating, according to HuffPost: "I kept waiting for people to tell me what to do and [I] tried to hire people who would tell me what to do. I should have just started lecturing all the time throughout the district, speaking my heart. That's all I needed to do, really."
Williamson was happy, however, to play a role in the political "conversation."
"This conversation of the politics of conscience and the politics of the heart is much bigger than any one woman winning a Congressional seat," she continued. "My losing the Congressional seat is small. What's big is the larger conversation."
Speaking of the "larger conversation," there are some people who are wondering what she's doing in this presidential one.
"Seriously WHO IS MARIANNE WILLIAMSON," one person tweeted.
Other people had jokes, with one person writing: "Who will inform Marianne Williamson this is, in fact, an Arby's."
A commented joked: "On behalf of all people who live in California, I offer my deepest apologies for Marianne Williamson, who lives in a house made of sharp, jagged crystals and quartz so no one could get close enough to whisper 'No.'"
It's possible Williamson's lack of political experience will hurt her in the long run, which seems to be popular opinion on Twitter. And if she doesn't make the cut, at least she'll have Winfrey's shoulder to cry on.