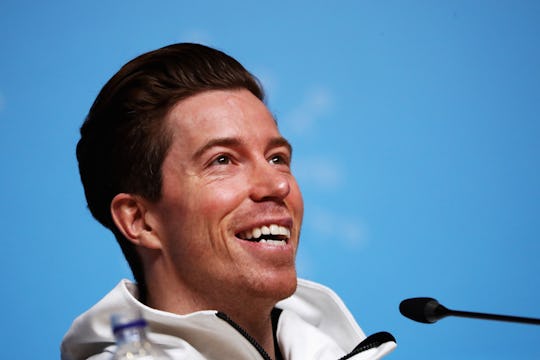 Ker Robertson/Getty Images Sport/Getty Images
All Your Favorite Athletes Represented Team USA At The Opening Ceremony
Olympic snowboarder and video game star extraordinaire Shaun White is no stranger to the Olympic Games. The 2018 Winter Games in PyeongChang, South Korea marks his fourth time competing at the Winter Olympics. Considering the epic commercial played during the Super Bowl essentially touting White as Iron Man, it's clear his fans are excited to see him compete. But is Shaun White at the opening ceremony for the 2018 Winter Olympics? No big surprise, White was there with bells on.
White has been under scrutiny outside of his accomplishments in snowboarding and skateboarding in recent months. He reached a settlement in a 2017 sexual harassment suit with the former drummer in his band Bad Things, Lena Zawaideh. White's representative did not immediately respond to Romper's request for comment. While the suit was settled, the allegations have left something of a pall over White's career. And with the Winter Games approaching (generally White's time to shine for his country), some people were wondering whether he would take part in the historic opening ceremony. After all, White is one of the enduring household names in the Winter Olympics. It would seem odd not to see him walking with his fellow athletes during the opening ceremony.
Happily, White was right there, according to his Instagram post, alongside Lindsey Vonn and ready to get the party started.
After something of a disappointing turn out at the 2014 Winter Olympics in Sochi, Russia (where he failed to place and make it to the podium) expectations are high for the two-time Olympic gold medal winner. Despite the fact that the snowboarder suffered a terrible crash in New Zealand in October during a training session, he's staying positive. The incident left him with 62 stitches, injuries to his face, and bruised lungs. He even told For The Win that he continues to have stitches in his tongue to this day from his 22-foot fall.
In the days leading up to the Winter Games, White told USA Today he was feeling optimistic. Especially when it came to his signature half pipe skills, which he nailed at this year's X Games with a perfect 100:
It was really great for me to watch every single competition that's gone down ... we're this close to the Olympics, so close to the Olympics and everybody's trying their hardest runs.
White went on to note that he's feeling good about his upcoming performance at the Winter Games, even going so far as to imply that the best is yet to come, according to USA Today:
I don't think we've seen my best run. It's not just about one big trick. It's about the whole run. I definitely have a couple things in mind that I've been working on that I'd like to iron out and here's the time to basically do it and try to put it in my run. I'm excited.
As the U.S. Olympic team arrived en masse to celebrate the beginning of the Olympic Games in PyoengChang, White was all smiles. Confident, excited to be representing his country in South Korea, and ready to erase the memory of his performance at the 2014 Winter Games from everyone's minds.
White is looking to dominate at this year's Olympic Games, and his appearance at the Opening Ceremony hopefully lit a spark of hope for fans of the team. That he's back, that he's well... and that he is going for Olympic gold.
Check out Romper's new video series, Bearing The Motherload, where disagreeing parents from different sides of an issue sit down with a mediator and talk about how to support (and not judge) each other's parenting perspectives. New episodes air Mondays on Facebook.