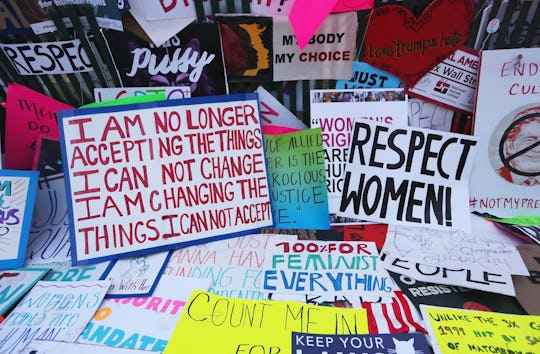 Mario Tama/Getty Images News/Getty Images
Is There A 2018 Women's March In Seattle? Here's Where To Go & When
There are already more than 200 Women's March events planned around the world for Saturday, Jan. 20, including a 2018 Women's March in Seattle, according to the "Power to the Polls" website. "Power to the Polls" is the name of the larger Women's March's 2018 agenda, which will commence in Las Vegas, Nevada to celebrate the event's one-year anniversary and to begin its national voter registration and mobilization tour that'll target swing states, according to the website. Meanwhile, in other cities around the world, including Seattle, Women's March Chapters are organizing state-specific anniversary marches and events.
The Women's March Alliance offers a full list of these events on its Facebook page from Asheville, North Carolina, to Annapolis, Maryland, to Santa Ana, California, and just about every few cities in between. In Seattle, there were reportedly two marches being planned but, according to the Capitol Hill Seattle Blog, organizers have collaborated on a single anniversary march for Saturday, Jan. 20. The Seattle Women's March 2.0 will start at Cal Anderson Park at 10 a.m. Pacific Time and those interested in participating can RSVP on the Power to the Polls website.
Among many reasons, participants will be marching to "support women's rights, racial equity, human rights, civil rights, disability rights, LGBTQIA rights, workers' rights, immigrant rights, reproductive rights, Indigenous people's rights and social and environmental justice," according to Evensi, an events website promoting the march.
"Last year, the Womxn's March on Seattle made history, bringing 175,000 loud and engaged people to the streets," organizers wrote on the Capitol Hill Seattle Blog, but noted that they also saw "record low voter turnout" in Washington State — just 37 percent of eligible voters participated in the 2017 elections.
The year 2018 is quite pivotal for midterm elections, as Americans have the opportunity to support and elect women for state and national governments. That's why Seattle's march organizers urge residents to "get engaged and stay engaged," according to the Capitol Hill Seattle Blog. They will partner with Seattle Indivisible, which will run voter registration events in each neighborhood, according to Seattle Womxn Marching Forward (formerly Womxn's March on Seattle).
Jan. 21 will also be the designated day for "Womxn ACT on Seattle," which is a "citywide day of learning, supporting, sharing, and acting on behalf of nonprofit organizations, grassroots, and social justice groups in Seattle," according to Seattle Womxn Marching Forward. In addition to nonprofits and social justice groups, local businesses will also host lectures, panels, and "concurrent events," according to the Marching Forward website. The even hopes to allow for "community building around the city," especially for grassroots groups that don't have headquarters or other physical spaces.
Events that are already confirmed, according to Seattle Womxn Marching Forward, include exhibitions and performances, voter registration drives, panel discussions and lectures, potlucks, trainings, and food and sundry drives.
Businesses and organizations that are interesting in putting on other events or activities that they are already equipped to organize and host themselves can do so, and Seattle Womxn Marching Forward will promote them, according to its volunteer sign-up form.
It's not too late to get involved more directly, either. There's still a call for volunteers, who are needed to handle social media, procure necessities, design art/signage, and offer day-of support.
For those interested in attending (volunteering or not) but without a crash pad in Seattle, head over to Stay 22 for vacancies near 1635 11th Avenue, the official address of Capitol Hill Park. The site offers hotels, apartments, and room shares that'll be available over the long-anticipated weekend.
Now go design some signs, spread the word, and march forward.
Editor's note: After publication, we discovered this article did not meet our editorial standards. There were portions that did not correctly attribute another source. It has been updated to meet our standards.