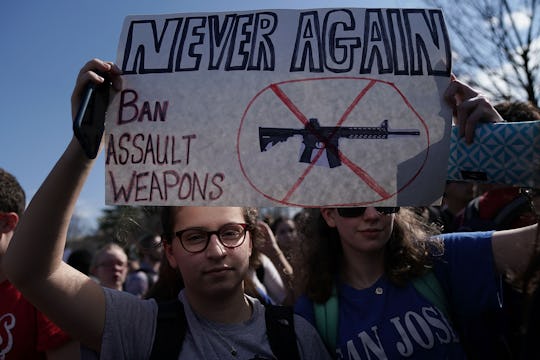 Alex Wong/Getty Images News/Getty Images
Everything You Need To Know About The March For Our Lives Demonstration In Chicago
Following the tragic school shooting at a high school in Parkland, Florida last week that left 17 people dead, students have organized a nationwide protest to stand together in an effort to put an end to gun violence and mass shootings. The central march will take place in Washington, D.C., but there will be sister marches happening across the United States as well, including a March For Our Lives in Chicago next month.
The March For Our Lives in Chicago demonstration will take place on the same day as the central march in the capital, on Saturday, March 24, 2018. The march in Chicago starts at 11 a.m. local time and attendees plan to gather at the Richard J. Daley Center before they take to the streets to make their voices heard, according to the event's Facebook page.
Whether you live in the city or the surrounding areas, those near the Windy City will definitely have a place to go if they want to participate in the protest. As of publication, more than 3,600 people have confirmed they'll be attending and 15,000 people have noted that they're interested on Facebook.
The day is sure to be filled with power, emotion, and hopefully change. Unfortunately, the shooting at Marjory Stoneman Douglas High School isn't the first mass shooting this year, and unless there are some serious changes to ensure gun violence prevention, it probably won't be the last.
Soon after the horrific events last week, students at Marjory Stoneman Douglas High School banded together to create the March For Our Lives. A protest with one thing in mind, per the event's website:
March For Our Lives is created by, inspired by, and led by students across the country who will no longer risk their lives waiting for someone else to take action to stop the epidemic of mass school shootings that has become all too familiar. In the tragic wake of the seventeen lives brutally cut short in Florida, politicians are telling us that now is not the time to talk about guns. March For Our Lives believes the time is now.
The students behind the March For Our Lives have truly been working incredibly hard to make this protest one to remember, and with the support they already have, it likely will be.
Celebrities have also been joining forces to help endorse the march. As TIME reported:
First, George and Amal Clooney pledged to donate $500,000. Then Steven Spielberg did the same. And then Oprah Winfrey did it, too.
In the first 24 hours following the announcement of the march, over $2 million was raised in order to help efforts to make the protest be as successful as possible. And there's still over a month before the march takes place, so it's likely that that total will go up.
One of the students behind the demonstration, Cameron Kasky, wrote in an op-ed for CNN the reason for this upcoming march:
We can't ignore the issues of gun control that this tragedy raises. And so, I'm asking — no, demanding — we take action now. Why? Because at the end of the day, the students at my school felt one shared experience — our politicians abandoned us by failing to keep guns out of schools. But this time, my classmates and I are going to hold them to account. This time we are going to pressure them to take action. This time we are going to force them to spend more energy protecting human lives than unborn fetuses.
A lot of thought, sadness, anger, and motivation has been put into the March For Our Lives demonstrations that'll take place across the country next month and everyone who stands behind these students' mission can help push for change.