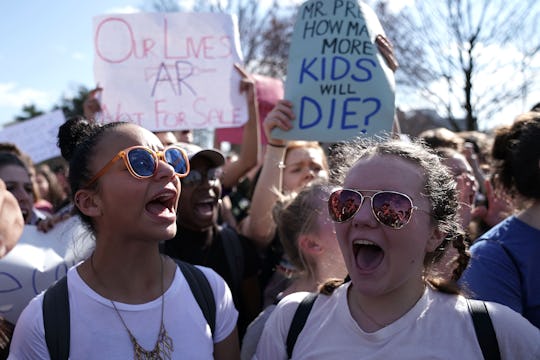 Alex Wong/Getty Images News/Getty Images
Is There A March For Our Lives In Texas? Here's Everything You Need To Know
After the tragic shooting at Marjory Stoneman Douglas High School that left 17 people dead, teen survivors are determined to make sure this is the last school shooting the nation will have to endure. Scores of people will take to the streets of Washington, D.C. next month to push for safer gun reform policies, but those in red states might be wondering if they'll be able to protest as well. For those in the Lone Star State, you're in luck because there are many March For Our Lives demonstrations happening in Texas.
Currently, it looks like there will be local sister marches taking place in several Texas cities as people participate in the March For Our Lives in Washington, D.C. next month. For now, it seems as though Dallas, Houston, Austin, and Fort Worth are the only Texas cities with events planned for the march, although more demonstrations could be planned in the next month.
Though Texas may be pro-gun, the upcoming demonstrations will hit home for many. Unfortunately, Texans are all too familiar with the pain and heartbreak that comes with a mass shooting. On Nov. 5, 2017, a gunman opened fire inside a church in Sutherland Springs, Texas, killing 26 people, according to USA Today. Now that the student survivors of the Parkland, Florida school shooting have organized the March For Our Lives demonstrations, it makes sense that many Texans would see it fit to participate. So, where will the Texas locations of the March For Our Lives take place? Here's what we know:
Dallas
According to the Texas Democrats website, the Dallas March For Our Lives will happen on the same day as the Washington, D.C. national rally, on Saturday, March 24. The event will take place starting at 12 p.m. CT at Dallas City Hall, and last until 3 p.m. CT. Here's what the official website has to say about the event:
On March 24, the kids and families of March For Our Lives will take to the streets of Dallas, TX to demand that their lives and safety become a priority and that we end gun violence and mass shootings in our schools today.
At the moment, it doesn't appear that any speakers are lined up for the event. For more information, the Dallas March For Our Lives Facebook page posts pretty regular updates on the event.
Austin
Austin has always been a political city, of course, for many Texans, that's why the catchphrase "Keep Austin Weird" works. It's a liberal city in a conservative state. So, the fact that Austin will be holding its own March For Our Lives Event is also totally unsurprising. According to the event's website, it will also take place on March 24, starting at 12 p.m. CT. In Austin, the march will also begin at City Hall and last until 3 p.m. CT. The event's Facebook notes:
Join students from across Austin as we march from City Hall to the Capitol in an effort to raise awareness and make substantive changes to gun policy in Texas, and the United States.
Again, it's unclear right now whether the Austin event will have any speakers.
Houston
While the Dallas and Austin march both take place around 12 p.m. near the city halls, the Houston event is a bit different. The Houston March For Our Lives will begin at 9 a.m. CT at Tranquility Park in the city. As Houston is a bit bigger than Dallas and Austin, it makes sense that they would need to change the logistics of the march in order to make it work. Per the event's Facebook group, the Houston March For Our Lives will be begin at 9:05 a.m. and they'll march a total of eight blocks to Ted Cruz's office "then back to Tranquility park going with the flow of traffic." Another rally will begin around 10 a.m. in Tranquility Park.
Again, the event organizers haven't listed any speakers, but that could all change in the coming weeks.
Ft. Worth
While Fort Worth might not be as big as Dallas or Houston, the students organizing the city's March For Our Lives are hoping that that won't matter. In fact, the Fort Worth Star-Telegram interviewed one of the students behind the event, Lillian Scott, a junior, who said:
We hope to make our elected officials hear our voices. Students are losing their lives while those in charge are doing nothing. We want to have a large turnout and have our elected officials feel the pressure to make change regarding gun control.
The Ft. Worth March For Our Lives will take place Saturday, March 24, at the Tarrant County Courthouse, starting at 10 a.m. CT.
All of the March For Our Lives events are pretty incredible, considering how difficult it must be to organize such an event. Especially in Texas, when school districts are threatening to suspend any student who dares to participate in such protests. Texas needs change, and hopefully the students leading these demonstrations are just the start.