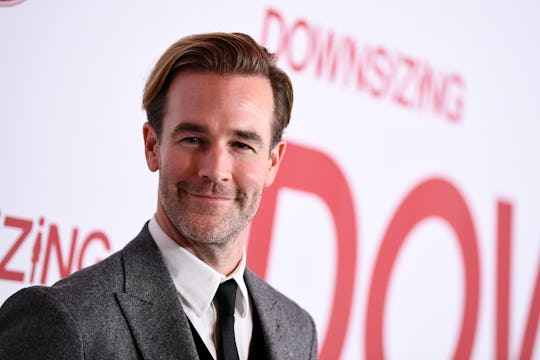 Emma McIntyre/Getty Images Entertainment/Getty Images
Parents Will Love James Van Der Beek's Message To Breastfeeding Moms
Dawson's Creek alum James Van Der Beek and his wife, Kimberly Brook, announced the birth of their fifth child in June. The couple is quite busy these days, to the say the least, but it hasn't stopped Van Der Beek from speaking out on important postpartum issues like breastfeeding. Want proof? Look no further than James Van Der Beek's inspirational message to breastfeeding moms on Tuesday. The powerful post has garnered upwards of 32,000 likes, and parents are praising Van Der Beek for normalizing breastfeeding.
Van Der Beek went from living the single life to married with five kids real quick. Just one month after marrying Brook in August 2010, Van Der Beek welcomed his first daughter, Olivia, into the world. Next in line was Joshua, 6, followed by Annabel, 4, and Emilia, 2. And last but not least, a little girl named Gwendolyn joined the family on June 15, 2018. Like I mentioned earlier, Van Der Beek became a dad to five in the blink of an eye.
Although one would imagine Van Der Beek doesn't have time for social media given the fact that he's a busy actor and dad, he does pop up on the 'gram fairly often to showcase the realities of parenting, including breastfeeding. "#Breastfeeding moms everywhere... we salute you," Van Der Beek captioned a gorgeous shot of Brook breastfeeding Gwendolyn at Nobu in Malibu, California.
Besides the fact that the snap is absolutely breathtaking (seriously, the couple needs to frame this shot ASAP), it deserves attention because it's rare to see a father highlighting breastfeeding on a public platform. It's incredibly important more dads speak out on breastfeeding in order to normalize it. Combatting social stigma is a group effort.
Following Van Der Beek's post, many parents took to the comments section to applaud his transparency.
"Love both of you for using your platform to normalize home birth and breastfeeding keep that going!!" one fan gushed.
"What a incredible husband and support system you are! Having a supportive partner during the trials and tribulations of that 4th trimester are exactly what gets you through it all," someone else said. "Thanks for being you!"
"What a beautiful pic!!! I will never understand how feeding our children has become a controversy," one commenter added. "Way to use your voice for the great good! @vanderkimberly so cool to see the Husband support! You are so blessed!"
Another fan chimed in: "This makes me love and respect u so much! What a great partner you are!"
But what's especially inspiring about Van Der Beek's message is the discussion it prompted between fellow parents. I've never witnessed such a respectful and honest exchange between people on a celebrity's Instagram page before, and it's heartwarming. Essentially, some commenters are supporting parents who don't breastfeed, for whatever reason that might be. When one person commented about the grief and judgment they felt from not being able to breastfeed, someone responded:
Just remember we want to be proud of breastfeeding because it can be a tough journey. But our excitement and pride by no means judges another mother for her choice otherwise. Promise you that.
"You do what you feel as the mom that will be best for you and the baby. I'm sorry you have had to be judged due to your mom choices for your own little miracle," one person penned. "All babies are miracles. God Bless you."
Although I'm not sure if Van Der Beek intended for his post to inspire a healing conversation about breastfeeding versus bottle-fed, I'm sure he would approve.
So, here's to more breastfeeding awareness posts from Van Der Beek going forward. It's clear parents appreciate the valuable work he's doing.