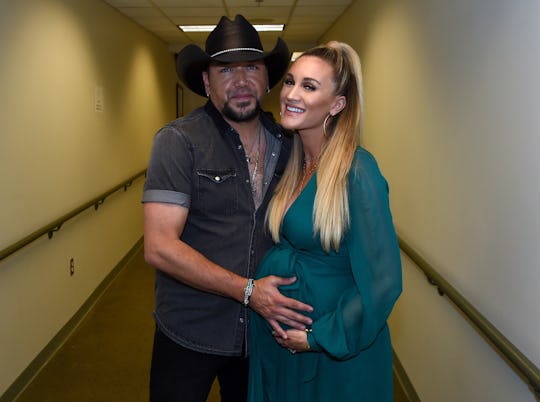 Rick Diamond/Getty Images Entertainment/Getty Images
Jason Aldean Says His Newborn Son Helped Him Cope With The Las Vegas Shooting
One of the deadliest shootings in the United States broke out in Las Vegas, Nevada during the Route 91 Harvest Festival this past October while country singer Jason Aldean was performing on stage. Aldean's wife, Brittany Aldean, was 7 months pregnant at the time. Two months later, Brittany gave birth. In the months since the shooting, Aldean has been vocal about how hard that evening was for him and how he has been healing since that tragedy. But the birth of his son, in December, helped him deal with that. In a new interview, Aldean said that his newborn son helped him cope with the Las Vegas shooting, proving that children can help their parents heal from the toughest times.
People will never know what was going through Jason's head at the time of the shooting. But now, just a few months later, Jason is opening up about that night, the lasting impression that it left on him and his family, and how he has been able to cope since then. On Friday, Jason told hosts of SiriusXM's The Highway how the birth of his son, Memphis, in the beginning of December, helped him cope a lot. Jason said, according to People, that the birth of his son allowed him to "focus on something else." Which probably was necessary at the time.
Jason continued, telling the show's hosts what kind of impact Memphis' birth had on him, according to People:
Within a couple of months, I saw the worst thing that you could possibly experience, and then I saw the best thing that you could possibly experience, with him being born. So it gave me something else to focus on, and gave me a reason to look forward to the new year. Getting the chance to get back out there and do what it is that I love to do.
This is incredibly poignant, especially since Brittany was back stage at the musical festival, according to ABC News, listening to her husband perform when the first shots were fired. In an incredibly emotional Instagram post after the shooting occurred, Brittany detailed her thoughts from the night and wrote that she feared that she would never be able to meet her son. Brittany said in that Instagram post, just a few days after the shooting:
As we laid behind the equipment onstage with some of our road family, bullets flying past...all I could think was, "What if I never got to hold my baby." We all made sure the others knew we loved them and then ran for cover where we stayed for a few hours (not knowing if there were multiple shooters, where the bullets were coming from...NOTHING). We were the lucky ones.
Brittany and Jason did get to meet their baby just a few months later, and judging from their Instagram accounts, Memphis' birth has brought so much joy into the Aldean family. Jason, according to People, is already a dad to two daughters — 14-year-old Keeley and 10-year-old Kendyl — from a previous marriage.
Since that night in October, Jason's life didn't stop completely. One week after the shooting, Jason appeared on Saturday Night Live to give an incredibly powerful performance of "I Won't Back Down" by Tom Petty. Days after that, Jason visited the survivors of the shooting at a Las Vegas hospital, according to CNN. And Jason returned back to touring in mid-October, which he cited as one of the biggest things to help him move on from the tragedy in an interview with TODAY in November. But at the same time, in that same interview, Jason said that he needed his time to heal from the events that took place that night, too. Jason said, according to TODAY:
But it's something I'll never forget. I just hope everybody can start to heal. Some of this stuff you never get over. But I hope it gets better as time goes on.
Time certainly seems to have helped Jason, who has been hard at work as a musician and a parent. He released his first song since the shooting, "You Make It Easy," on Friday. Jason cited Memphis' birth as a reason to get back into the studio, telling The Highway on Friday, stating it gave him "a reason to look forward to the new year."
You can tell that his family and his music has helped with the healing process from the events that took place that night in October, proving that nothing is more important than your loved ones and the things you love.