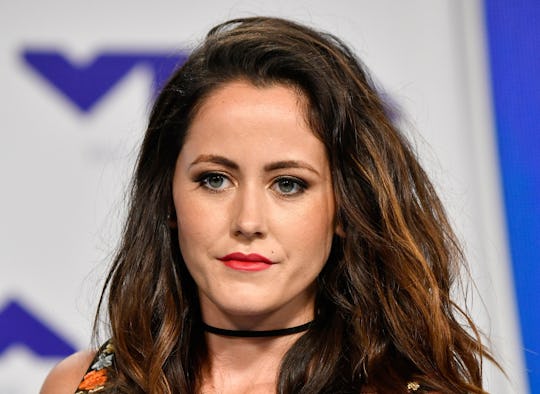 Frazer Harrison/Getty Images Entertainment/Getty Images
Jenelle Evans' Ex Is Freaking Out After She Pulled A Gun Out On 'Teen Mom 2'
After MTV aired disturbing footage of an altercation between the star of Teen Mom 2 and another driver, Jenelle Evans' ex, Nathan Griffith, called her "unstable," according to TMZ, and said he's fighting for custody of their 4-year-old son, Kaiser. On Monday night's episode, Evans is shown driving with her 8-year-old, Jace, in the front seat when she got into it. As Evans described it:
He was tailgating me the whole way, would not stop, and um, then he races in front of me and purposely slammed on the brakes at 70-something miles an hour, and almost, like, I almost got veered off the side of the road.
Her immediate reaction was to scream an expletive, and then reach into the pocket of her door for a handgun, which she appeared to place next to her on the seat, just inches from Jace. "If he tries to get out and hurt you, I can get out this Nerf gun and whip him," the child offered. Evans called the police to report the incident, holding her son's mobile phone in one hand and gesturing wildly with the other as she continued driving on the highway. She then followed the man home to confront him.
It's tough to tell exactly what transpired without the raw footage, but Evans can be heard shouting that the other driver was blocking her in, and that he hit her car. Then, the video goes dark and is replaced by the caption, "At this point, Jenelle pulled out her firearm." The audio continued, with Evans shouting at the other driver and what sounds like a gun cocking. She eventually left the man's property, but was later pulled over by police. Jace can be heard describing what happened:
He slammed into us. Then Mommy just pointed this gun at the guy, and then he said, "You better not ——— shoot!"
The incident occurred in late April, and a police report obtained by Radar Online said that the other driver claimed Evans hit his truck, ran over his mailbox, and pulled a gun on him.
According to Entertainment Tonight, Evans told police that Jace "almost hit the dashboard" when the other driver braked in front of her, although it's clear from the footage that his seatbelt — which is designed to protect much taller people — luckily prevented such a thing from occurring. Evans did not appear to look in Jace's direction.
While Kaiser wasn't present at the time, Griffith still thinks the footage will help his custody case, because "it shows an unstable environment and a very hectic situation," he told TMZ. "I think it shows that the child might be in danger being in a hostile situation like that, and not making sound judgment to keep the children safe." He said that he's considering a subpoena to obtain the raw footage.
Overall, I provide a stable and peaceful environment and even footage shows that I'm constantly trying to take Kaiser out of a hostile situation. I am afraid that if she carries a loaded weapon inside a vehicle and she keeps it that accessible, without a lock on it — it's very dangerous to be around children.
The custody situation between Evans and Griffith is becoming increasingly volatile; according to Cafe Mom, Griffith's mother, Doris Davidson, refused to return Kaiser to Evans and her husband, David Eason, after a weekend visit earlier this month because she believed that he'd been abused by his stepfather. Kaiser is back with Evans for now, but Columbus County CPS reportedly has an ongoing investigation into the matter. Jace's father, Andrew Lewis, is not involved with his son, In Touch has reported, and Evans' mother, Barbara, is his legal guardian. Evans also shares a 1-year-old daughter, Ensley, with Eason, and CPS has been involved with her care, as well, after she reportedly tested positive for drugs at birth. Let's hope someone keeps those kids safe.