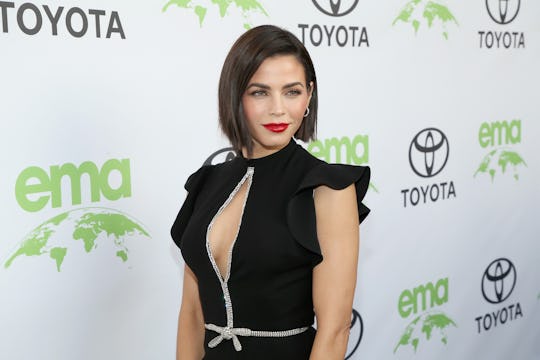 Phillip Faraone/Getty Images Entertainment/Getty Images
Jenna Dewan Just Owned The Single-Mom Life
Jenna Dewan is a dancer, actress, and mom to a super adorable 5-year-old daughter, Everly, with her ex-husband, Channing Tatum. Dewan has it all and does it all so well — but now she is relearning how to be single after her split from Tatum, who was her husband of nine years. Although she might be a single mom, Dewan revealed in a new interview that she still feels sexy. Not only that, but Jenna Dewan also thinks we have sexiness all wrong in motherhood, which makes so much sense when you hear her words.
In a new interview with Women's Health, Dewan stripped down (quite literally) for the magazine — both physically and emotionally, as E! News noted in an article on the piece. Dewan opened up about her split from Tatum, which happened this past April, according to People, and how her life has changed since. Although there have been a lot of changes in the past few months (like changing her last name from Dewan-Tatum to Dewan), Dewan revealed in Women's Health that the one thing that she has never lost was her sense of sexuality, even after she gave birth to her daughter in 2013.
"Apparently, when you become a mother, you're supposed to leave your sexiness at the door, and I never understood that," Dewan told Women's Health's Lisa Butterworth.
Dewan also said that motherhood empowers her, which in turn, makes her feel super sexy. "I think there's nothing sexier than becoming a mother. You give life. It's everything. And you don't have to change who you are on the inside because you have a kid," she told Women's Health.
Dewan is so right — there are so many ways for a woman to feel sexy. But, between cleaning up runny noses, doing a countless amount of laundry, and preparing hundreds of peanut butter and jelly sandwiches for their children, motherhood might not seem like the hottest thing measured against yesterday's ideas about what constitutes sexiness. However, Dewan's words can flip that mindset around for other moms out there who haven't felt their best in a while, and might find power in what they have achieved. Women shouldn't lose that spark about them just because they became a mom — it's part of who they are.
Dewan's words can also be read as a response to all of the mommy shamers or "parenting police" who have criticized Dewan in the past for posting risqué photos on Instagram (while being a mom), according to Us Weekly. Like last year, when Dewan posted a photo of her backside adorned in lingerie while she was in Paris — one commenter reportedly wrote, according to Us Weekly, "You have a kid... shame on you."
The parenting police also came for Dewan in May, shortly after her split from Tatum, when she shared some "sexy photos" to her Instagram account, according to CafeMom. "Go be a mom," one commenter reportedly wrote, according to CafeMom.
But Dewan's quotes about sexiness only highlights that she can be both — a mom who is sexy — and she fully embraces that.
Even before her daughter has kids of her own, Dewan told Women's Health that she wants Everly to embrace her sexuality and be proud of who she is — just like Dewan, who is equally as vulnerable and empowered when she strips down in front of a camera or opens up in another interview. Dewan said, according to Women's Health:
I want my daughter to see that and be like "Wow, my mother was a fully actualized, sensual woman."...women are so much stronger, and more powerful, and living in our goddess energy, when we come together to lift each other up rather than tear each other down.
Based on Dewan's words, it's obvious that she is headed into this new chapter of being a single mom with a clear head and empowered mindset — and she is owning it.