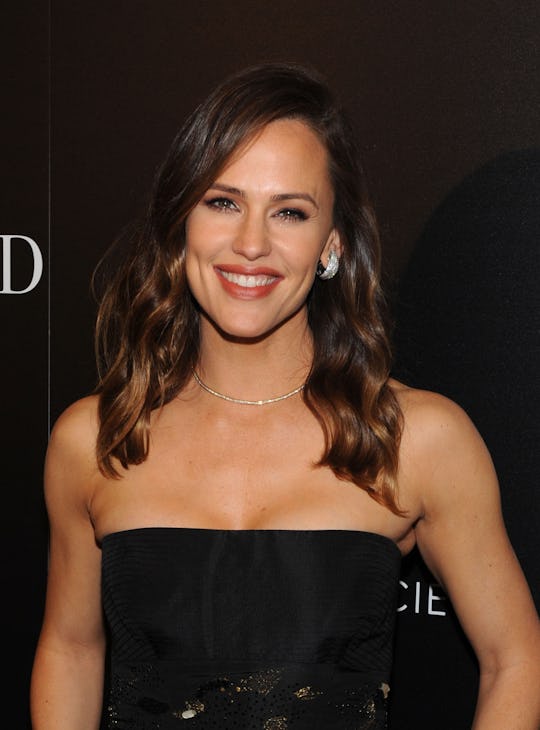 Craig Barritt/Getty Images Entertainment/Getty Images
Moms Everywhere Will Relate To This Note Jennifer Garner's Kid Left In Her Planner
Jennifer Garner is always photographed doing "regular" things: Walking around wearing workout clothes, buying produce at a farmer's market, taking her kids to school, selling Girl Scout cookies to unsuspecting grocery store shoppers, for example. So I've fantasized that one of these days, I will run into her doing her "mom" routine, and it'll be epic. Well, that hasn't happened just yet, but I'm sure I'm absolutely right about just how funny and cool she'll be when we finally do bump into each other at ballet with our kids or something. How do I know this? Well, Jennifer Garner's latest Instagram of her kid's note written in her planner, and her caption of discovering it, is a perfect example of what a down-to-earth and totally funny mom she is.
In addition to her diverse acting résumé that includes hits like Love, Simon, Miracles from Heaven, The Tribes of Palos Verdes and Dallas Buyers Club, the Golden Globe-nominee is mom to three kids — Samuel, 6, Seraphina, 9, and Violet, 12 — whom she shares with her ex-husband, Ben Affleck. Though she doesn't share photos of her kids on social media, according to E! News, Garner often posts some of the funniest and most relatable #MomContent on Instagram.
And her latest Instagram post, shared earlier this week, shows the star opening her day planner — every busy mom's best friend — to find that one her kids left her a message. And a not-so-subtle-one, I might add. The message simply reads one word: "FART."
"If you're looking for me at the end of August — it appears I'm booked," she playfully captioned the photo. Way to roll with life! She could have been upset over all those beautiful, blank pages being entirely taken over by a kid's idea of a practical joke, but no, she laughed it off and shared the silly moment with her fans. And, of course, other moms loved it and couldn't help but relate to this little surprise.
"Lol, love it," wrote one.
"I love the surprise messages in my notebooks from my kids," enthused another.
"Oh my gosh that's hilarious..gotta love those kiddos!" another added.
One more chimed in, "Yesss! Moms everywhere relate to this. 🤣 gotta 💨 sometime! August seems good!"
Now, I'm not saying it's Garner's son who wrote "fart," as it could have equally been one of her girls, but still... he is a likely suspect. Especially in light of his previous note to his mom about the same bodily function, which she also posted earlier this year on Instagram. "I love farts," that note read.
Still, Sam could easily have been framed this time, knowing the way siblings are...
To be fair, though, Sam has also been tender in previous notes to his mom, which she has also shared with her fans. Like this one that read, "Hello, You are loved. I believe in you."
Potty humor aside, Garner has been on a roll lately, beyond her acting career. For example, she just published a New York Times op-ed piece about the importance of investing in early childhood development and education programs in the poorest parts of the country; the actress herself is from West Virginia and grew up used to seeing generational poverty, even though she herself was middle-class, as she shared with The New York Times.
Her words are definitely inspiring and will hopefully invoke some much-needed change. And that's what's great about Jennifer Garner; she's able to relate to others on personal level — whether it comes from her work on-screen, to being a mom, or an advocate for important causes.
But when it comes to those days when you're in need of a little silliness, just head over to Garner's Instagram page where she so perfectly and humorously documents that wild adventure that is parenting.