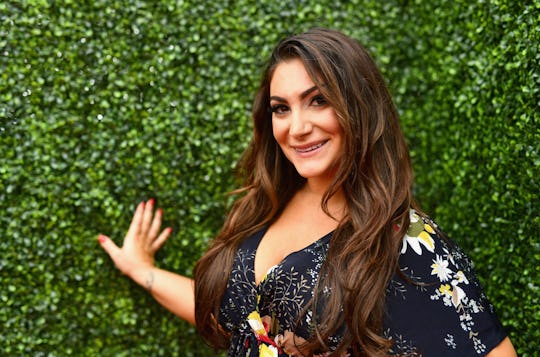 Emma McIntyre/Getty Images Entertainment/Getty Images
Deena From 'Jersey Shore' Just Shared The Sweetest 16-Week Pregnancy Update
There's really nothing sweeter than watching as moms-to-be get to show off all their new pregnancy updates — especially when they're expecting their first child. A perfect example of this? Jershey Shore's Deena Cortese's newest pregnancy update and of course it's super adorable. At 16 weeks pregnant, this expectant mama donned a form-fitting blue dress to fully show off her growing bump.
After announcing her pregnancy earlier this month, Cortese is sporting an adorable bump. In her Instagram photo, Cortese is standing in front of a chalk board sign that details her pregnancy progress so far. At 16 weeks, the star wrote that her baby is as big as a dill pickle. It's pretty wild to imagine babies when they're still as small as a single pickle, right?
Speaking of pickles, when it comes to those notorious pregnancy cravings Cortese shared that she's currently craving ice cream, cinnamon raisin bagels, and candy. And, finally, Cortese included on the sign that she's feeling sleepy, excited, and loved.
Cortese wrote as her photo's caption, "16 weeks pregnant 🤰🏻baby bump is growing.. he definitely popped in the last 2 weeks ..mommy and daddy can't wait to meet you 💙 our sweet baby boy 👶🏻 📸." She also included the hashtags, "#babybump#bumppic#babybucknersjourney#motherandson."
Fans are thrilled to see another update from Cortese, filling her comments with messages of support. "You are radiant! 🌟," one user commented. A second user wrote, "You look so adorable Momma !!! Hope you are feeling well during your pregnancy 💕".
Another mom offered her well wishes, while sharing some of her own experiences, "😍 you are so cute pregnant 🤰🏽 and good luck once you get further along, coming from a fellow vertically challenged women (4'11"🤣) who's popped out 3 bambinos, the bigger the baby gets the more uncomfortable and harder it gets to breathe or do anything 😑 lol but it's so worth it in the end 👶🏽😁💙"
Cortese originally announced her pregnancy on July 2, so not too long ago. The couple shared their joyous news with an Instagram photo on Cortese's account of the two standing together. In front of the couple, a red, white, and blue themed sign read, "We're excited to say a little firecracker is on the way! Baby Buckner December 2018".
For her announcement caption, Cortese wrote an adorable note to all her fans:
Chris and I Decided to wait until we were ready to spill the beans! 💙Now that we are safely into our second trimester.. us and our little monkey are ready to tell the world Our little family is growing ! We have a sweet little boy on the way! We Are truly blessed and our hearts are filled with so much joy and happiness💙 December can't come soon enough! Daddy and Mommy can't wait to meet you Christopher John❤️ you are going to be the most spoiled little boy ever!!!!
On Buckner's account, the announcement featured the couple's dog standing in front of a sign that read, "It's official. I'm getting a new best friend. Guard dog duty starts December 2018".
"Thank you everyone for all the love! We are finally starting the family we've always wanted and youre the only one I want to share this blessing with. Love you babe @deenanicolemtv," Buckner wrote in his caption.
This update comes after Cortese's 14 week pregnancy update, in which she wore the same blue dress and posed in front of the same sign. In her that update, Cortese shared her craving for fruit, candy, and ice pops. It's pretty cool to look back and forth between the two pictures. Since they're so similar, it's very easy to see how Cortese's bump has grown from then and now.
First time motherhood can be a scary experience, but it seems like Cortese has some great support from family and fans alike! And fans cannot wait for her next pregnancy update.