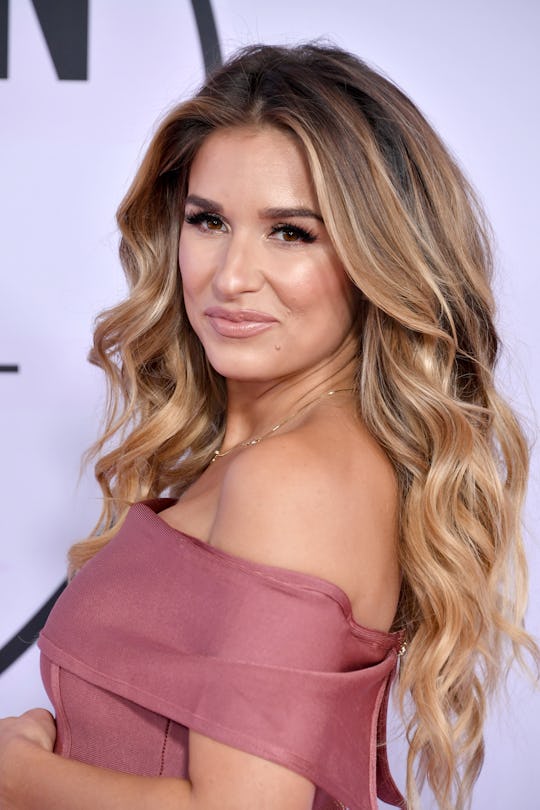 Neilson Barnard/Getty Images Entertainment/Getty Images
Jessie James Decker's 3-Month-Old Son Forrest Is The Spitting Image Of His Dad In This Photo
It's difficult to deny that women play a pretty pivotal role in growing and birthing human beings. Sure, the whole process isn't even possible without a man's genetic contribution — but after that initial conception, the bulk of the heavy lifting leading up to delivery is all on the mom-to-be. So tell me this: How fair is it that, after those nine long months of incubation and those long hours (and sometimes days!) of labor, a baby comes out looking exactly like their father? What the heck, right? Well, Jessie James Decker's newest photo of baby Forrest has fans convinced he's the spitting image of his dad. And they're totally right about this little cutie.
On Monday, Decker took to Instagram to share a sweet photo update of her youngest child, Forrest — whom she shares with her football player husband, Eric Decker — as Us Weekly reported. "Love this little chubby cheeked baby boy #12weeksold," the proud mama captioned a shot of herself holding her little guy.
Sprinkled liberally among the, "OMG, so cute!" reactions were comments pointing out how much Decker's son looks like his daddy. "Omg yes Eric's twin!" one Instagram follower commented. "Literally a mini eric," another person wrote. Yet another person chimed in with, "Holy cow mini ERIC!!! Precious!!"
And similar comments just kept coming. "Looks like daddy," another person wrote, along with a hearts-eyes emoji face. Another wrote, "So handsome!!! Just like his daddy #goals."
As a point of comparison, here's what NFL player Eric Decker looks like.
OMG, I totally see it, guys! Little Forrest has some serious "daddy face" going on. And it's just too sweet.
Decker gave birth to her third child on March 31, as People reported. The famous couple are also parents to a 4-year-old daughter, Vivianne "Vivi" Rose, and a 2-year-old son, Eric "Bubby" Thomas Jr.
"Forrest Bradley Decker born March 31st weighing 9lbs. We are so in love," Decker wrote on Instagram on April 2, along with a photo of herself having some skin-to-skin time with her newborn at the hospital.
It was announced on Oct. 6, 2017 that Decker was expecting baby number three, according to People. They marked the occasion with an adorable video of themselves telling their two children the big news.
Later that month, the Decker family announced they would be welcoming another baby boy to their brood, as People reported. The expectant mama shared a sweet reveal video of her two older children opening a box that unleashed blue balloons.
For the record, other than looking exactly like his father, baby Forrest has another "claim to fame" — the fact that he appeared in his first music video while in utero! While Decker was pregnant with baby number three, she shot the official video for her single, "Flip My Hair," TODAY reported. Watch her bust some serious preggo dance moves in her music video, below.
As E! News reported, that Decker has kept it real when it comes to her postpartum life and body. Just three weeks after giving birth, she shared an honest look at what her tummy looked like.
Not too long after that, the mom of three shared a photo that most breastfeeding moms can probably relate to. "Is it possible for a baby to want to be on the boob 23 hours a day?" she captioned the shot of herself breastfeeding baby Forrest. (Answer: Yes, yes it is.)
Now, back to Forrest's serious case of "daddy face." Both my first and third children resemble my husband more than they do me. And with our first baby, in particular, it was pretty darn annoying. It's like... how much blood, sweat, and tears have a sacrificed for my little guy to look nothing like me? I got over it fairly quickly, though, because luckily our son is beyond cute. Plus, our second-born child — a daughter — is practically a spitting image of her mama. So I ended up getting my "revenge" after all. Following this same logic, since Decker's first two children seem to look so much like her, I have a feeling she's perfectly OK with baby number three looking like a spitting image of his daddy.