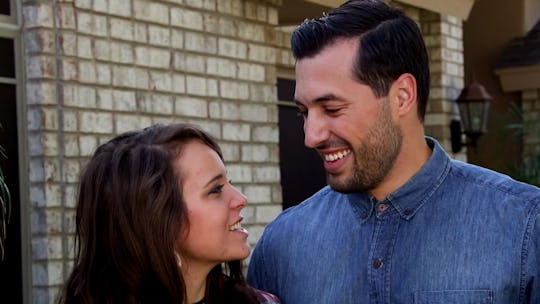 TLC/ YouTube
Jinger Duggar Is Absolutely *Glowing* At 38 Weeks Pregnant In Her Newest Bump Photo
It's been seven whole months since Jinger Duggar first announced that she's expecting her first child, a daughter, with her husband, Jeremy Vuolo. Since learning the news, fans of TLC's Counting On, have been anxiously waiting for her to give birth so they can finally meet her little one. But the waiting will soon be over since the expectant mom is due to give birth in a matter of days. As such, it's clear to see why Jinger Duggar is glowing in her 38-week bump photo while she patiently awaits the arrival of her little girl.
On Tuesday, July 10, Jinger updated fans on the progress of her bump and its (still) growing size. After going four weeks without posting an update about her bump, Jinger and the updates finally returned to her Instagram account, where she let fans get a great look at her bump, sharing that her baby-to-be is the size of a pumpkin now.
In the photo posted to her Instagram account, Jinger could not look any more gorgeous or happier at the thought of welcoming her little one into the world. Jinger captioned the shot, "38 weeks and four days. Jeremy and I can't wait to meet our baby girl!"
Although Jinger has about two weeks left in her pregnancy, she isn't necessarily ready to give birth. In a new trailer for the upcoming season of Counting On, which airs later this month, Jinger revealed that she is pretty terrified about her daughter's arrival. "I get scared thinking about birth and labor," she said in the preview, according to InTouch Weekly.
Although Jinger might be a little scared, her smile in her newest bump update indicates that she is more than ready to give birth and to finally meet her and Jeremy's little girl. Seriously, since the moment the couple announced that they were expecting on Jan. 3, according to Us Weekly, fans could not have been happier for the couple and ready to follow along with her new journey, too.
While the excitement for her to give birth to her daughter is real, seeing photos of Jinger and her bump are just as great. After all, this is Jinger's first pregnancy, and since fans have been following along with her pregnancy from the very start, no longer having these frequent bump updates will be a little bittersweet. Thankfully, the Duggar family shared another photo of Jinger and her bump on Facebook on Tuesday, much to the delight of fans.
During the past nine months of her pregnancy, Jinger has learned a lot about being pregnant, even though she has had her mom and her older sisters to rely on for advice and pregnancy stories. In an interview with Us Weekly this past March, Jinger revealed that parts of her pregnancy have surprised her, in spite of knowing what goes on during pregnancy. Jinger said, according to Us Weekly:
I do think probably what surprised me most is just being so tired all the time. I was never a napper, like having to take a nap, and now it's like, "Ooh! I think I want to nap every day."
But the greatest advice given to her by her sisters was to just listen to her body. "They've said 'Just take a nap, don't feel bad if you need to lay down in the middle of the day,'" Jinger told Us Weekly.
Within a matter of days, Jinger will be having to rely on the wisdom from her sisters when it comes to taking care of a newborn baby. But in the meantime, she can just enjoy these last few moments with her husband and her bump before her baby girl's arrival.