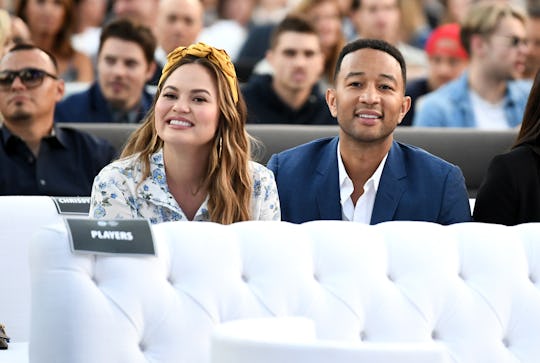 Emma McIntyre/Getty Images Entertainment/Getty Images
Baby Miles Is The Spitting Image Of John Legend In This New Close-Up Photo
You can't deny that Chrissy Teigen and John Legend's two kids are seriously cute. Their 2-year-old daughter, Luna Simone Stephens, and their newborn son, Miles Theodore Stephens, are equally adorable in their own unique and similar ways. But the more Miles has grown since his birth in May, the more that fans have been able to determine which family member he's starting to resemble the most. In a new Instagram post on Wednesday, John Legend shared a close-up photo of baby Miles and it not only shows just how cute the little boy has gotten in these last few months but proves that he closely resembles his family members.
While some people were more concerned with food and fireworks on July 4, a.k.a Independence Day, Legend was more focused on taking photos of his sweet baby boy. During the holiday, Legend took a break from the festivities and went to Instagram to share the sweetest new photo of his son, according to Entertainment Tonight, which fans can agree was better than a hamburger and fireworks combined.
In the photo, Miles appeared awake and alert, with his eyes wide open and his brow furrowed as he sat on Legend's lap. "My little Miles," Legend wrote in the photo's caption. Awwwww. Not only does the photo show off how adorable he is, but it allowed fans to get a really good look at the little boy — and compare him to his famous family members, too.
Although it's completely subjective when it comes to who Miles closely resembles, fans seem to think that Miles is a dead ringer for Legend, taking to the comments of the photo to tell the dad of two exactly that.
"He looks just like you!" one fan wrote.
"Looks just like daddy," another added.
"He's got your eyes," one more fan told Legend.
To sum it up? "You have some seriously strong genes!" yet another fan stated.
And that fan is completely right — especially if you look at the photo that Teigen posted of Miles sitting in Legend's grandmother's lap a week ago, according to E! News. In this photo, fans could definitely see that Miles is his father's son, given how closely he resembles his family members on his father's side.
But just because Miles' features seem to favor his dad now, that doesn't mean this won't change as he continues to grow up. In the "most adorable photo of Miles yet," according to People, that Teigen also posted to her Instagram account a week ago, fans in the photo's comments thought that Miles favored his sister, Luna, a little more than his mom and dad.
Based on all of this, fans can determine that Miles actually looks like the perfect combination of his mom, dad, and sister. And in every photo posted of him, this becomes more clear. But Teigen has her own opinions on who Miles more closely resembles. Shortly after Miles was born, Teigen took to Twitter where she shared with a fan that she thought that Miles looked just like Luna when he was born because they have the same exact nose, according to People.
Though fans seem to be set on determining which family member Miles resembles, Legend and Teigen, of course, have bigger priorities and are clearly focused on making sure their son is happy and healthy. Legend told People last month that the couple has been taking some time away from work and investing that time with their son. Legend said, according to People:
A lot of it's just the nuts and bolts of making sure Miles is fed. Making sure he sleeps well. Making sure we burp him. Making sure we change his diaper. It's just the practical, everyday things of being a parent, and so we're immersed in that time in his life right now.
While Teigen and Legend immerse themselves in their son's life (and posting super adorable photos of him to Instagram while they're at it), fans are immersing themselves in determining which parent Miles resembles the most. The verdict from this newest photo? Miles is all Legend.