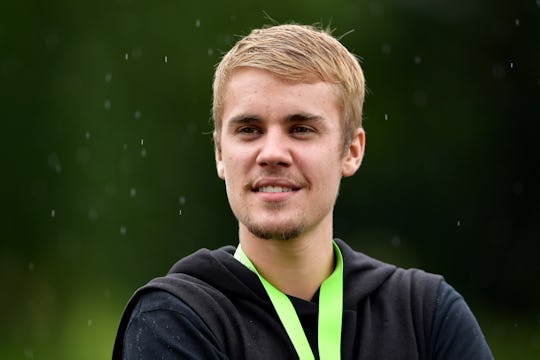 Stuart Franklin/Getty Images Sport/Getty Images
Someone Asked Justin Bieber If Hailey Baldwin Is Pregnant & He Was Not Having Any Of It
Justin Bieber and Hailey Baldwin's relationship has been a whirlwind. After getting engaged earlier this month, the two 20-somethings have sparked a lot of rumors about their relationship. But on Friday, Bieber dispelled one himself and his response to paparazzi asking if Hailey Baldwin is pregnant is something people need to pay attention to. When it comes to pregnancy rumors and speculation, let's just agree that it's best people give them a rest.
Bieber and Baldwin got engaged two weeks ago, on July 7, after one month of dating, according to TMZ, and the couple is clearly very happy about this. But instead of being happy for the couple, fans suspected that there could be a reason behind their quick engagement, like a rumored pregnancy, according to 95-106 Capital FM. Although Bieber nor Baldwin mentioned a pregnancy or having kids when they confirmed their engagement, according to CNN, some people still saw this as a sign that they could be starting a family in the near future — despite having no evidence or quotes from them to support this.
Because these claims were so baseless, fans can't blame Bieber for getting pretty angry when a photographer asked him to confirm or deny the rumors on Friday, as reported by Cosmopolitan.
When asked if Baldwin was pregnant, Bieber had the a pretty intense response to the photographer, which was caught on camera. According to Cosmopolitan, Bieber said:
What's your deal, bro? You just seem too like, you just seem too normal to be doing this job...I just don't understand why you gotta try to get a rise, you know what I'm saying?
The photographer then responded to Bieber, trying to explain why he was asking what's very obviously an inappropriate question, but the pop star wasn't buying any of it and said, "No, you know what you're doing."
Bieber isn't wrong in jumping to his fiancé's (and his own) defense, of course. Their engagement is clearly a very special time in their lives, one that they likely want to keep to themselves and just enjoy together. So, if you or anybody else were in his shoes, you might feel inclined to respond similarly. Needless to say, fans and the media simply should not make these types of assumptions or ask these prying questions. If there's news to share, they'll share it on their own time. Plain and simple.
What is clear though is that Bieber is head over heels in love with his fiancé. When Bieber confirmed his engagement on Instagram on July 9, two days after popping the question, he stated how much love he had for her in the sweetest love letter to Baldwin, like, ever. Bieber wrote in the caption of the photo:
...Hailey I am so in love with everything about you! So committed to spending my life getting to know every single part of loving you patiently and kindly. I promise to lead our family with honor and integrity letting Jesus through his Holy Spirit guide us in everything we do and every decision we make. My heart is COMPLETELY and FULLY YOURS and I will ALWAYS put you first! You are the love of my life Hailey Baldwin and I wouldn't want to spend it with anyone else.
Based solely on this, you can tell that Bieber is ready to start a life with Baldwin, whatever that might entail. The pop star has said in the past, however, that he does want a family; in a 2016 interview with Glamour, Bieber shared that his "biggest dream" was to settle down "by the age of 30" and "have a family of his own." Whether he has kids now, when he's 30, or never, that's a personal decision and the media and fans aren't owed an answer about it, unless they choose to share it.
Instead of wondering about a pregnancy that may or may not exist, it seems more appropriate to simply celebrate the couple right now and just stay tuned for whatever exciting relationship news they choose to share next.