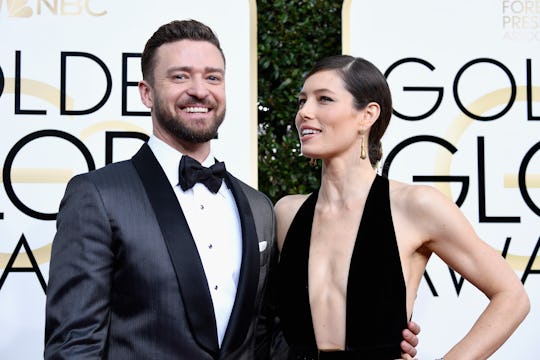 Frazer Harrison/Getty Images Entertainment/Getty Images
Justin Timberlake Says He Wants "As Many Kids" As Possible With Jessica Biel
There are some things from the 1990's that keep coming back, like fashion trends, rebooted TV shows, and your favorite boy band members. Former N'SYNC member, Justin Timberlake, is an example of this — and this year, Timberlake has been making a resurgence in your car radio and on your TV screen (thank goodness). But in addition to unveiling new music, Timberlake is pulling the curtain back on certain details of his life, like fatherhood. In a recent interview, Timberlake said he wants "as many kids" as possible with his wife, actress Jessica Biel, and his words are enough to make any '90's kid swoon.
This isn't a throwback to the early 2000's — Timberlake has been releasing new singles this year, resulting in his new album, Man of the Woods, which will be released on Feb. 2. Up until then, Timberlake has been revealing parts of his life that fans might not know about him or might not be as familiar with, especially since it has been a while since Timberlake released a new album (that was in 2013, according to NME). But Timberlake certainly isn't that pop star that you remember. In 2012, Timberlake and Biel married and in April 2015, Timberlake and Biel welcomed a baby boy named Silas, according to Us Weekly.
And now, Timberlake is speaking out about fatherhood and his desire to have more kids and his words are all kinds of adorable.
In an interview with Beat's 1's Zane Lowe, Timberlake opened up to Lowe about the ways that fatherhood has changed him — which includes inspiring him to have more kids. Timberlake said, according to Us Weekly:
I want to have as we can, if I'm being honest. I've never felt more inept in my life. You wake up and all of a sudden there's this human being you're responsible for.
How cute is that? You can sense Timberlake's complete adoration for his wife in that sentence and his excitement to bring more children into the world (which is hopefully soon).
Timberlake continued, telling Lowe that he often forgets what his life was like with Biel before he had Silas, but at the end of the day, parenting is so rewarding. "I feel like the success of parenthood is feeling like I failed all day today, but I get to wake up tomorrow and do it again," Timberlake said, according to Us Weekly. "And hopefully, they turn out to be a good human being."
Timberlake shouldn't doubt his skills as a parent — it seems as if he is already so devoted to his son and his role as a father. In the same interview, according to E! News, Timberlake revealed to Lowe that Man of the Woods is named after his son, Silas, which literally translates to "of the woods" or "wood." Timberlake, with his last name rooted in the word "timber" (which is another word for wood) told Lowe that this was "serendipitous."
This isn't the first time that Timberlake has opened up about his fears about fatherhood and how being a dad makes him feel "inept." In 2015, Timberlake told The Hollywood Reporter that fatherhood "opened up the floodgates" for "trauma" and that his first year of being a dad was difficult. "At first, it broke me down," Timberlake told The Hollywood Reporter. "The first eight months felt like those old [Ed Sullivan] shows where people are balancing spinning plates on poles — except if you drop one, they die." In 2016, during an appearance on TODAY, Timberlake reiterated his insecurities to show host, Willie Geist. "[Fatherhood] changes everything," Timberlake said. "You literally wake up in the morning, look in the mirror and go, 'I have no idea what I'm doing.'"
But, with a few years of practice under his belt, it seems as if Timberlake knows what he is in for when it comes to fatherhood and is ready for more children. I, for one, can not wait to see what the future has in store for Timberlake and Biel.