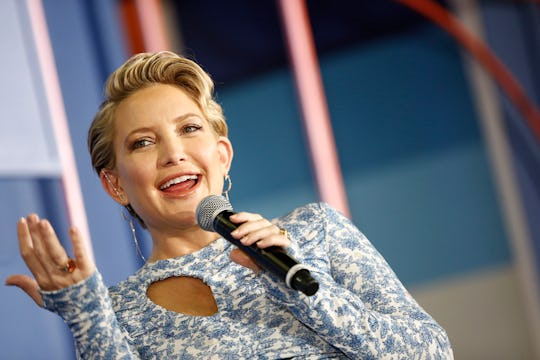 Brian Ach/Getty Images Entertainment/Getty Images
Moms Are Loving Kate Hudson "Visualizing" Her First Dirty Martini After Giving Birth — PHOTO
Kate Hudson is just out there living her best life this summer. The pregnant actress and Fabletics mogul has taken the rest of the summer off to prepare for having her baby. And to spend some time doing some positive visualization and yoga pre-birth. You know, for a healthy birth, a happy baby... some booze. In a recent Instagram post, Kate Hudson was "visualizing" her first dirty martini after the birth of her baby. And obviously moms were right there with her.
The Almost Famous actress is expecting her third child, a little girl, with boyfriend Danny Fujikawa in August. She is already mom to two sons, 14-year-old Ryder and 6-year-old Bingham from two previous relationships. As July rolls in and her due date gets a little closer, Hudson is clearly thinking about the future. Her life with her growing family, to be sure, and also maybe a little bit about her own experience as a non-pregnant lady. Specifically having a grown up beverage after giving birth. In an Instagram post Hudson shared on Saturday, she showed off her baby bump in some leggings and a matching sports bra as she laid on a yoga mat and some pillows.
Hudson wrote in the caption that she was busy doing a little positive visualization of a very specific kind:
Visualizing and connecting to a healthy birth and my first filthy dirty martini 🍸
And yes to both of these things, of course. Several moms took to Hudson's Instagram post to commiserate with the expectant actress:
Filthy dirty martinis are the ONLY martinis!! 🍸
My motivation was a gigantic long island iced tea!
Amen to that!! I can wait for a filthy beverage myself 🙏
Cheers to the first drink 🍸
While I totally sympathize with Hudson's need for a nice cold martini, it's hard to feel too terrible for her. After all, she and Fujikawa just got back from the most wonderful looking babymoon in Tuscany. And there's the fact that Hudson is clearly just over the moon in love with her man. The two were friends for 15 years, as Fujikawa is stepbrother to two of Hudson's best friends, Erin and Sara Foster, the daughters of composer David Foster. As Erin Foster explained to Us Weekly in April:
When they say timing is everything, it's so true. You're around someone for so long . . . and you don't think of each other in that way and then one day you look at each other differently.
It's a pretty romantic story, the kind that might make you look at your boyfriend and wonder if he shouldn't be trying just a smidge harder. But I digress. When Hudson went public with the news that she was in a relationship with musician Fujikawa, it wasn't long before the two were announcing they were expecting a baby together. Hudson announced the pregnancy via an epic sex reveal party with the entire family, which she captioned:
We have been trying to keep this pregnancy under the radar for as long as possible but I'm a poppin now! And it's too darn challenging to hide, and frankly hiding is more exhausting then just coming out with it! My kids, Danny, myself and the entire family are crazy excited! A little girl on the way 💕
So let's take a moment to take stock here; Kate Hudson has a wonderful boyfriend, not just one but two amazing careers, amazing genes (she is the daughter of Goldie Hawn, after all), and just got back from a babymoon in Italy. But she can't drink a dirty martini just yet.
Suddenly I'm not feeling terribly sympathetic.