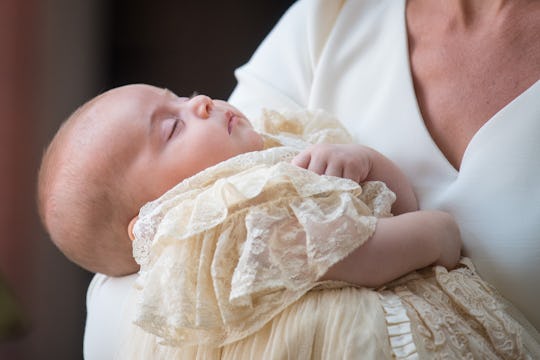 WPA Pool/Getty Images Entertainment/Getty Images
Kate Middleton Had The Most Relatable Reaction To Prince Louis Napping During His Christening
Taking out a young infant in public is basically like gambling. Your little one could peacefully snooze the whole time, and the entire trip could go off without a hitch. Of course, the outing could also be poorly timed so that your baby requires no less than four back-to-back diaper changes (possibly including a blowout), two feedings, and a spit-up session/clothing change. Because let's face it, newborns are needy, messy human beings. (It's a good thing they're cute, though.) Overall, this is probably why parents are thankful when their young babies opt to nap through special outings; because it's just easier that way. And honestly, Kate Middleton had the most relatable reaction to Prince Louis sleeping soundly at his christening.
In case you missed it, Prince William and Kate Middleton's third child, Prince Louis, was christened on Monday, July 9, the BBC reported. The 11-week-old prince — who is fifth in line to the royal crown, by the way — was baptized in the Chapel Royal at St. James's Palace by the Archbishop of Canterbury, the Most Reverend Justin Welby, according to the publication.
As the royal entourage arrived, Prince Charles, Prince Of Wales, and his wife, Camilla, Duchess of Cornwall, led the way toward greeting the Archbishop of Canterbury, as evident by an Instagram video posted by Kensington Palace. Behind them were Prince William, Duke of Cambridge, holding hands with his two eldest children, Prince George and Princess Charlotte. Right behind this trio was Kate Middleton, Duchess of Cambridge, with Prince Louis fast asleep in his mama's arms. (And not to be missed, newlyweds Prince Harry, Duke of Sussex, and Meghan Markle, Duchess of Sussex followed behind.)
As People reported, Prince Louis' christening marked the first time the Duke and Duchess of Cambridge and their three children have made a public appearance as a family of five. Before the royals made their way into the chapel, the archbishop seemed to ask Middleton if Prince Louis was asleep, the Daily Mail reported. The Duchess of Cambridge answered that he looked, "very relaxed and peaceful," and then jokingly added, "I hope he stays like this." Except as most parents can probably relate, it was probably also a not-so-joking plea to the universe for her youngest child to please stay asleep the whole time. Because as I previously hinted, awake newborns can be incredibly high-maintenance and messy. (And both the baby and Middleton were wearing all-white outfits, after all.)
Whether or not royal fans caught Middleton's comment about Prince Louis staying asleep, it seems Twitter was quite smitten over the snoozing little prince. "Prince Louis sleeping in his mother's arms is so sweet. Catherine looks stunning," one Twitter user wrote.
Another person tweeted, "We all need this picture of Prince Louis sleeping — who doesn't need a picture of a sweet baby sleeping??"
Still others couldn't imagine why a sleeping baby was considered news. One Twitter user wrote, "I love the people acting like Prince Louis sleeping at his christening is such a big/noteworthy deal as if he's not a baby meant to sleep most of the day."
Another person chimed in with, "Why is prince louis sleeping news.....hes a baby thats what all babies do."
Geez, guys. Way to kill a cute moment.
As for me? I'm totally with Kate Middleton on this one. Not only does an angelically-sleeping infant make for adorable photos, but it's one less thing you have to worry about when all eyes are on you and your family of five. I'm guessing that's part of the reason Prince William was wrangling the older two royal kids — just in case Prince Louis was having a "moment: in front of the world. So for the royal family's sake, I hope Prince Louis remained in dreamland for the bulk of his baptism ceremony. (And that the sprinkling of holy water didn't startle the little guy too much.) Congrats on your big day, Prince Louis!