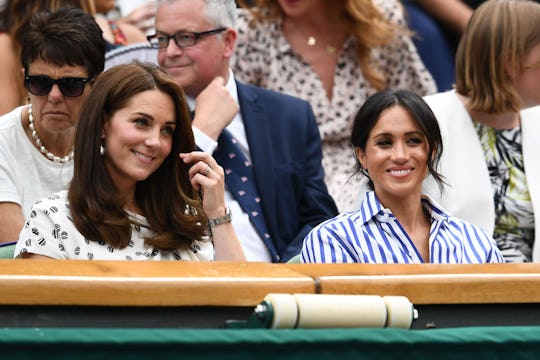 Clive Mason/Getty Images Entertainment/Getty Images
How Kate Middleton Is Helping Meghan Markle Learn The Royal Ropes
If you didn't see Kate Middleton and Meghan Markle enjoying their first solo royal outing at Wimbledon on Saturday, you really missed something. The Duchesses of Cambridge and Sussex respectively looked laid back, relaxed, and like they were becoming the best friends we have all been praying they might become. But more than that; they just sort of looked right sitting side-by-side in their complimentary outfits. Because these women are obviously not becoming rivals as some might have suspected. It seems that Kate Middleton is helping Meghan Markle adjust to royal life in some subtle yet wonderful ways.
Markle married Prince Harry, Kate Middleton's brother-in-law and former third wheel, on May 19 at St. George's Chapel in Windsor Castle. Prior to being married to Prince Harry Markle was an American actress, humanitarian, feminist, and curator of the now-defunct lifestyle site The Tig. In other words Markle was an accomplished, established woman in her own right. Which is probably why Prince Harry fell for her, notorious reformed bachelor that he's become. But things are obviously very different when you marry into the British monarchy. There are centuries-old customs to follow, rules that might be difficult to understand, subtle ways of speaking, sitting, walking, and dressing that probably feel incredibly foreign to the newest member of the British royal family.
Fortunately, Markle might have an ally who is willing to help her navigate those choppy waters: her new sister-in-law.
According to People, royal photographer Mark Stewart said that Markle was definitely watching Middleton for guidance at Wimbledon for their first big girls-only outing. Stewart told People, "She very much let Kate take the lead." Stewart also told People that there was "no rivalry" between the two women.
Middleton has also helped Markle polish up her style since becoming a member of the royal family, as a source told Vanity Fair:
Kate has been on hand to help Meghan get that polished royal look as has her stylist, Natasha Archer, who is Kate's secret weapon in the style department. Meghan now needs to find her own stylist so that she can curate her own look, but both Kate and Natasha have been very kind in helping her out in recent months.
Considering how much longer Middleton has been dealing with life at the palace (she and Prince William got married in 2011 and have since had three children together: 4-year-old Prince George, 3-year-old Princess Charlotte and baby Prince Louis), she makes an obvious choice as a mentor for Markle. Then there's also the fact that she's British by birth, has known Prince William since the two were at school, and oh yes; is reportedly very close to Prince Harry.
Queen Elizabeth has already gone on a solo outing with Markle and has reportedly hired a trainer to work with the new duchess for the next six months to show her the ropes, according to Harper's Bazaar, but Middleton is a different kettle of fish.
Since marrying Prince William, she has worked to maintain a balance of royal life and her own life; parenting her children the way she chooses, working with charities that interest her, and making her own family's mental health a priority. She, Prince William, and Prince Harry even started the Heads Together foundation to end the stigma of mental health disorders, as Hello! Magazine reported. She even interviewed her husband and Prince Harry in an effort to discuss all the different ways that mental health struggles can affect people's lives.
Middleton can offer Markle guidance of a different sort. She can help her figure out a way to stay true to herself within the regimented world of the British monarchy. Already when the two women were watching the Ladies' Singles Final at Wimbledon, royal watchers could see a clear connection between them.
There are plenty of people who can tell Markle how to cross her legs or whatever as a new duchess, but I think only one person can help her figure out how to stay true to herself as a member of the royal family: Kate Middleton. She knows how to curtsy, sure, but more than that she knows how to hold her own as a modern woman in the palace. Plus I hope they keep those coordinated outfits coming. Just saying.