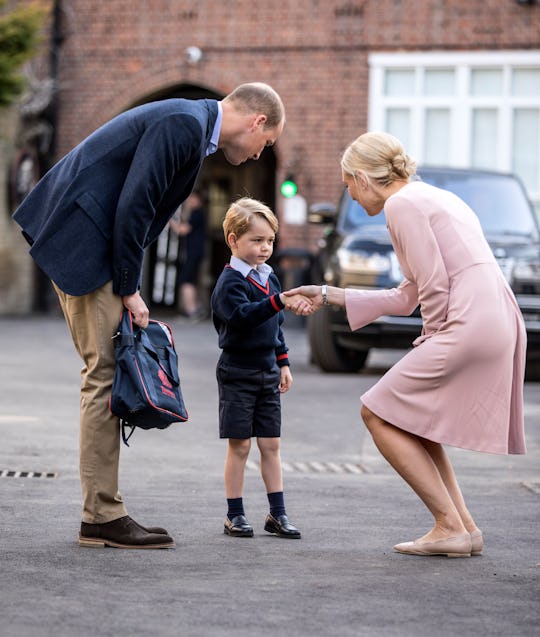 WPA Pool/Getty Images Entertainment/Getty Images
Prince William & Kate Aren't The Only Famous Parents With Kids At Prince George's School
Prince George made many headlines in September when he attended his first day of school at Thomas's Battersea, a private preparatory school in London. Not only did England's future king draw attention, but so did his father, Prince William, Duke of Cambridge, aka another one of England's future kings, who was photographed accompanying Prince George on his big day. But as it turns out, Kate Middleton and Prince William are not the only famous parents on drop-off duty at Thomas's Battersea.
The Daily Mail recently spoke with an anonymous parent of a child who reportedly attends Thomas's Battersea, who revealed that the other celebrity mom at the school is a Victoria's Secret model. "No one really gives Kate a second glance when she does the school drop-off," the source reportedly told the Daily Mail. "We have a Victoria's Secret model doing the school run, too, and the dads are far more interested in her!"
The source did not reveal the alleged Victoria Secret model's identity — which is for the best, since that would be a pretty big invasion of privacy. Not to mention, there have been hundreds of Victoria Secret models since the brand held its first fashion show in 1995, Business Insider reported, so it may be someone who is retired and very much out of the public eye.
Plus, it seems like Thomas's Battersea is good about keeping things private. Another source reportedly told the Daily Mail:
George loves it. He has really thrived there. And I know they [William and Kate] are immensely grateful to the media for giving him space. It's a very happy environment for him.
That's something Prince Will and Duchess Kate surely appreciate, considering they are known for dropping Prince George off at school themselves quite often. In fact, Middleton reportedly took Prince George to school the day after she gave birth to Prince Louis, Express reported. If you told me that about any other mom, I'd be surprised — but considering how put together and well-rested she looked mere hours after giving birth, it honestly makes sense that she had enough energy to take Prince George to school the following day.
Prince William has also commented on how Prince George feels about school on several occasions. In September, just a few days after Prince George started at Thomas's Battersea, Prince William visited Aintree University Hospital in Liverpool, where he opened up about little George's feelings on school so far. "George has been really easy. He hasn't said, 'Have I got to do this for the rest of my life?'" Prince William told a patient during his visit, as Hello! reported. "George started school – we are all seeing how long that lasts before he doesn't want to go!" he joked to another patient.
The dad of three also shared his relief that Prince George was well behaved on the big day. According to The Independent, Prince William said of Prince George's first day of school:
It went well. There was one other parent who had more of an issue with their children - so I was quite pleased I wasn't the one.
All that being said, it's clear that Prince William and Duchess Kate are far more focused on doing the best job they can as parents than they are on the Victoria's Secret model who allegedly frequents Thomas's Battersea (though that anonymous source can't say the same for every parent at the school). In a speech at the launch of the Out of the Blue film series in March 2017, Kate said, according to the official royal website:
Nothing can really prepare you for you the sheer overwhelming experience of what it means to become a mother. It is full of complex emotions of joy, exhaustion, love, and worry, all mixed together. Your fundamental identity changes overnight. You go from thinking of yourself as primarily an individual, to suddenly being a mother, first and foremost.
Prince William and Duchess Kate seem to be balancing the whole royal thing with the whole having-a-normal-childhood thing for their kids pretty darn well, and it will be so exciting to continue watching Prince George grow up with their guidance.