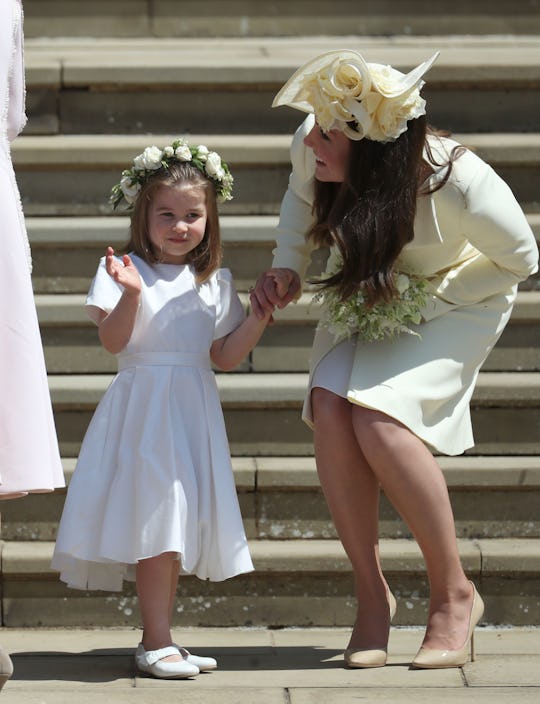 WPA Pool/Getty Images Entertainment/Getty Images
The Royal Family Might Just Be Color Coordinating On Purpose
Have you ever noticed that Kate Middleton and Princess Charlotte are perhaps the most pulled-together looking mother-daughter duo on the planet? No? Well look again, my friend. Middleton and Princess Charlotte wear coordinated outfits all the time. I'm not talking matching outfits, a trend which I'm not sure I can 100 percent get behind to be honest. For the Duchess of Cambridge and her 3-year-old daughter, the look is all about tasteful, thoughtful coordination. And apparently it's not some happy accident or anything. It's an intentional choice the duchess is making, according to a fashion editor who is in the know about these things.
The Duke and Duchess of Cambridge, who were married in April 2011, are now parents to three children. There's 5-year-old Prince George, 3-year-old Princess Charlotte, and 3-month-old baby Prince Louis. As the Duke of Cambridge is second in line to the British throne after his father, Prince Charles, their family is probably the most photographed family in the world. And 9Style editor Damien Woolnaugh explained to Honey Nine Nine in Australia that Prince William and Kate Middleton try to coordinate their outfits as part of their brand, as it were; "When you're the most photographed family on the planet (sorry Beyonce, Jay-Z and Blue Ivy) coordinating your look is a great way to preserve the Cambridge family's brand."
Here are the mom and daughter just nailing it in pink.
While Kensington Palace has not confirmed that the Duchess of Cambridge is actively making an effort to coordinate her looks with her daughter... I mean, the pictures sort of speak for themselves here.
Check the mother-daughter duo out in blue during a the Trooping The Color earlier this month. And is it just me or is Princess Charlotte wearing a tiny red bow in her hair that matches her father's uniform? Because that is just next level perfection if you ask me.
According to Woolnaugh, it isn't just Middleton and Princess Charlotte who coordinate their outfits; the whole family tends to get in on the act. He told Yahoo, "Just like the Beckhams, Kate and Will demonstrate that the family dresses together looks great together."
Here they are on a 2017 tour of Germany looking amazing in different shades of blue. Also, I can literally never get enough of Prince George in his short pants.
Even when Prince George and Princess Charlotte were tiny, their mother dressed the family in complimentary outfits. On a 2016 visit to Canada, Charlotte wore a burgundy cardigan over an ivory dress, George wore burgundy shorts and a navy sweater, and Middleton and Prince William pulled it all together in neutral shades of cream and grey. It was spectacular.
Of course, the Trooping The Colour is Kate Middleton's piece de resistance, her moment to pull her family's coordinated look together and stand out in a sea of famous royals all waving politely from the balcony at Buckingham Palace.
Here's the family in 2017.
And in 2016, although Prince George seemed to break free of the full on coordination with his mother and sister this go around. They wore palest pink while Prince George wore a white shirt with blue piping.
Kate Middleton has not ever said that she is coordinating her outfits with her daughter, of course. And since she hasn't offered any confirmation it could all be unintentional. But, I doubt it. When the family had their official portrait taken for Prince Louis' christening, even the new baby got in on the coordination game.
The fact is the Cambridge family always looks pulled together, and the kids always look pretty comfortable in their little outfits. And if their mother is the mastermind of these amazing combinations, she deserves a tip of the fascinator. Job well done.