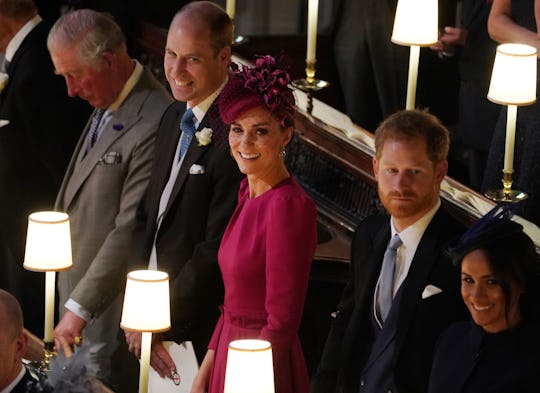 WPA Pool/Getty Images Entertainment/Getty Images
Every Mom Will Understand Kate Middleton's Latest Reaction To George & Charlotte
Prince George and Princess Charlotte participated in the marriage of Princess Eugenie last weekend, and there's one moment, caught on camera, that every mom, royalty or not, is sure to enjoy. Duchess of Cambridge, Kate Middleton, watching Prince George and Princess Charlotte at the royal wedding as they walked down the aisle was too sweet a moment to miss, and truly encompassed the pride any parent feels for their child. It may be hard to relate to the royals most of the time, but the look of pride on Kate's face is every mom watching their kid take center stage and #nailit.
If you watched the wedding live and didn't notice the touching scene, you're not alone. Almost nobody caught it right away, and for very legitimate reasons. One, royal weddings are grand affairs so it's difficult to not become totally overwhelmed by all the pomp and circumstance. And remember, the royal family is expected to be very reserved and formal in public, and Kate is arguably very good at meeting that expectation. But if you watch closely as the children make their way down they aisle, you can see them catch their mom's eye, and she absolutely lights up. Here's a slow-motion GIF created by a French Twitter account dedicated to the UK crown, fanRoyalSourceFR:
The actual moment of glee lasted a little longer than the GIF shows, too. If you watch the wedding on YouTube (protip: hit the gear icon to slow the playback), you can see Kate trying to act nonchalant as she tracks her kids' journey down the aisle of Saint George's Chapel.
What makes Kate's reaction all the more endearing is the fact that this is nothing new for the family: George and Charlotte also served as pageboy and bridesmaid for their aunt, Pippa Middleton, and her husband, James Matthews, in May 2017, according to Hello! magazine. A year later, they took on the roles again for the Duke and Duchess of Sussex, Uncle Harry and Aunt Meghan Markle — only five months ago, at the very same church. And considering they're royalty, their mother has plenty of opportunities to see them acting fancy and donning formal attire outside of weddings, as well.
But these aren't just any kids, they're her kids, and it's clear she'll never get tired of their adorable faces. I mean, how many times have you flipped through the same baby photos of your own kids on your phone? Have they lost charm yet? Nope. They never will, either. And there's something extra special about watching your kid "perform," whether it's singing a song with their preschool class on stage, nailing a test for their next karate belt, or serving in the wedding party of a dear family member or beloved friend.
Sadly, this will be the last time that Kate — and the rest of us — get to see the two little royals walk down the aisle this year. There was one other royal wedding last month, but it was decidedly less formal. Lord Ivar Mountbatten, Queen Elizabeth's third cousin, once removed, wed James Coyle on September 22, according to People. This marked the first same-sex wedding for the royal family. However, George and Charlotte may be asked to serve in another wedding in the future: Lady Gabriella Windsor, the Queen's first cousin, once removed, got engaged to Thomas Kingston in August, according to Harper's Bazaar, and the couple will marry in the spring. If she doesn't ask the kids to join her, quite frankly, she's missing out. Obviously Prince George and Princess Charlotte are pros.