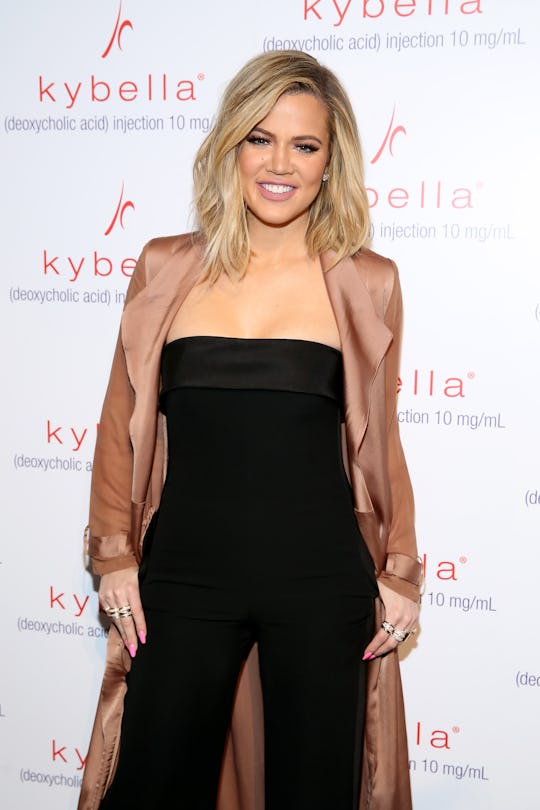 Cindy Ord/Getty Images Entertainment/Getty Images
New Moms Will Seriously Relate To Khloé Kardashian's Photo Of Baby True's "Rolls"
As a new parent, it is only natural to obsess over every inch of your little one. From their perfectly round little heads, to their teeny, tiny toes... what's not to love? Koko went from adoring aunt to mommy in her own right and has a baby of her own who she clearly loves with all her heart. And if you weren't convinced, Khloé Kardashian loving baby True's "rolls" in these photos is really all the proof you need.
Along with a little button nose and bright blue eyes to die for, one of my favorite parts of my baby has to be her chunky legs and what my mother-in-law affectionately calls her "sausage arms." And it looks like I'm not the only one enamored with these features. Kardashian posted a photo to her Instagram page showing baby True Thompson looking sleepy and adorable, which she captioned, "Mood PS why are rolls soooooo cute on babies?! 😩😍."
Along with Kardashian, many of her followers chimed in on the baby roll love-fest. For example, Chrissy Teigen, mother-of-two and no stranger to the sweetness of little babies, commented saying "she is so unbelievably cute ohhhh rolls!" True's father, Tristan Thompson, also commented on the photo, calling her his "princess," while Paris Hilton said "I love her!" to which Kardashian responded "I know she loves you!"
As it turns out, those rolls and extra chubby cheeks have a purpose beyond making your baby look like a cute little Michelin Man. Loving Moments explained that the extra fat stores in babies from their first two years play an important role in keeping infants safe. "Fat stores help prevent failure to thrive in infants and can protect against illness and even SIDS," according to Loving Moments. "Babies and toddler often accumulate fat in their legs and especially thighs."
As for the chunky cheeks that are famous for driving grandmas gaga, they are important, too. According to Loving Moments, a baby's chubby cheeks are so "chubby" because they're actually muscles, which are "vital to successful breastfeeding, both for suckling milk and swallowing it down."
Yes, they are cute, but any parent with a baby with rolls can tell you that they come with a bit of maintenance. Parents need to take steps to keep the neck rolls, in particular, clean and dry, according to Baby Gaga, as they can "stink" or "start to develop a rash" from dribbles of milk, drool, or spit up that may end up there.
Along with this sweet shot showcasing her little girl's "rolls," Kardashian has blessed fans with quite a few updates of baby True's cuteness in the past few months. That's right; I blinked and True Thompson is somehow already THREE. MONTHS. OLD. The little babe was born on April 12 and Kardashian has been basking in the sweet sunshine that is motherhood ever since.
Via Kardashian's Instagram, fans have been treated to photos of True playing with her numerous cousins, sporting numerous adorable and fashionable outfits, and showcasing the cutest Snapchat and Instagram filters that you've ever seen. Tristan Thompson has also uploaded quite a few photos and videos of his daughter, including one with her older brother, Thompson's 1-year-old son Prince from a past relationship.
Baby True is growing up a little too quickly if you ask me, but such is the way of babies. Mom and dad are clearly doting on their darling daughter, if their posts to social media are any indication, and the internet is much better off for it. I mean, just look at her.